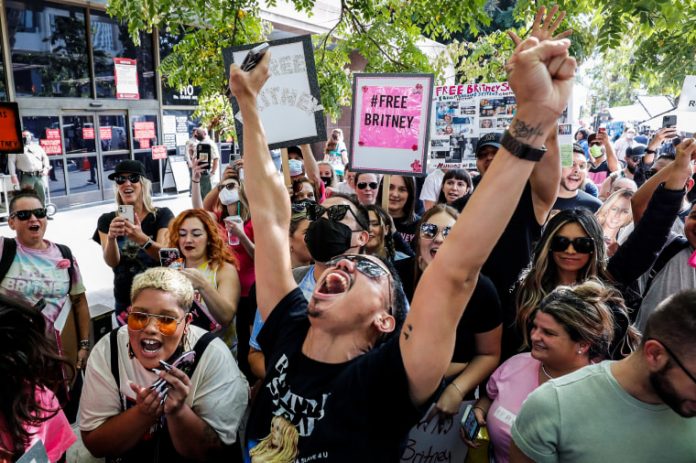 Superstar Britney Spears is officially free. The 39-year-old singer has been living in conservatorship for 13 years. All her finances and activities have been tightly controlled by her father, Jamie Spears, and a business manager, Tri Star.
Britney's multimillion-dollar estate has been estimated at only 60 million. But she has done world tours, a residency in Vegas, and many high-profile TV performances. She also has real estate and cosmetic interests. Her estate does not seem to have prospered during the time that others were in charge. Jamie Spears, Lou Taylor, and some high-profile attorneys have all made multi-millions for their role in controlling Britney's fortune.
Her dad was removed in late September and replaced by certified public accountant John Zabel. He will stay on to ensure a smooth transition in Britney's finances. 
Judge Brenda Penny terminated the legal arrangement during a Friday afternoon hearing. And it effectively restores all Britney's civil rights that were taken away in 2008.
The judge granted the pop star's attorney's request to end the arrangement without undergoing a mental evaluation. And the judge revealed that the conservatorship was started without a Dr's recommendation.
"The conservatorship of the person and estate of Britney Jean Spears is no longer required," the judge declared.
Britney's attorney speaks to crowd
Since 2019 Britney has refused to work. She has claimed that her Dad must be removed from her conservatorship. And said the abuse she was suffering was similar to sex trafficking.  
After the hearing her attorney, Mathew Rosengart stood outside the courthouse with the #FreeBritney supporters, and reporters. It was only four months ago that Britney was finally allowed to hire her own attorney. 
"What's next for Britney, and this is the first time this could be said for about a decade, is up to one person: Britney," he said as a crowd of #FreeBritney supporters cheered. Rosengart noted the singer has been set up in a position "to succeed" post-conservatorship. 
"We have a safety net in place for Britney, both on the personal side and on the financial side," he added. "But Britney as of today is a free woman and she's an independent woman and the rest, with her support system, will be up to Britney."
Officially free Spears thanks fans
"This week is gonna be very interesting for me," Britney said in a now-deleted Instagram post earlier this week. "I haven't prayed for something more in my life. I know I've said some things out of anger and I'm only human and I believe you'd feel the same way if you were me."
On Friday, Britney posted a video of the hundreds of #FreeBritney supporters who packed the Los Angeles streets near the courthouse.
"I love my fans so much it's crazy," she shared in her post. "I think I'm gonna cry the rest of the day !!!! Best day ever…"
"What's next for Britney, and this is the first time this could be said for about a decade, is up to one person: Britney," her attorney Matthew Rosengart said Friday.