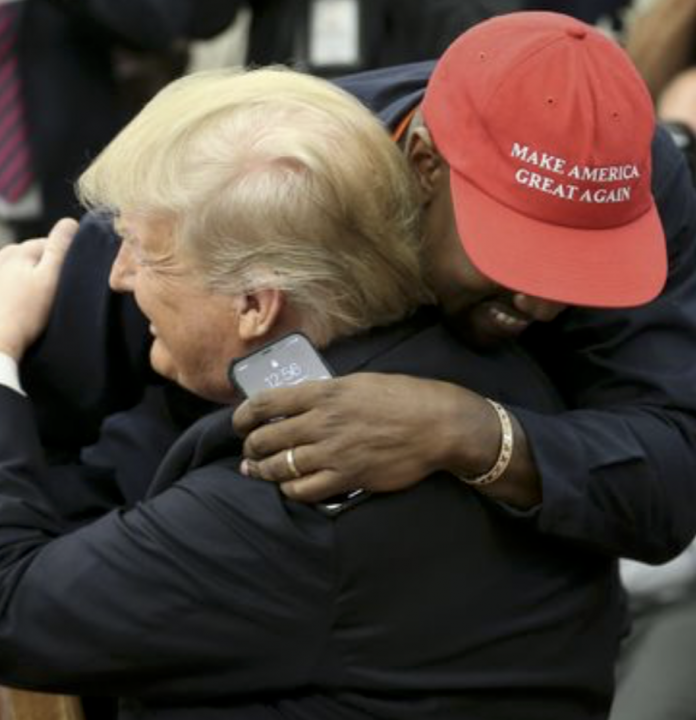 On Thursday, rap star Kanye West convened with President Trump in the Oval Office to discuss various political and social matters, reports The Hill.
An Overview of the Meeting with the President
One of West's key monologues involved liberals and steps that left-leaning Americans should take to improve. More specifically, the rapper called out those who maintain a strong dislike for President Trump:
"What I need 'Saturday Night Live' to improve on and what I need liberals to improve on: If he don't look good, we don't look good. This is our president. He has to be the freshest, the flyest."
Shortly thereafter, West professed his support for the sitting president, declaring that Trump is "on his hero's journey." The rapper furthermore raised eyebrows upon stating that President Trump may not have expected the support from a "crazy motherf*ucker" like himself.
Trump also had friendly words for West. When asked by a reporter if he would want West to speak at a campaign rally, the president said West can speak for him "anytime he wants."
"He's a smart cookie. Smart. He gets it. These two guys – Jim Brown. He's been doing this for a long time."
Other matters of conversation included prison reform, welfare, African-Americans' loyalty to Democrats, mental health, the Second Amendment, and more.
Thoughts on the Trump-Kanye Meeting
The press live-streamed Kanye West's meeting with President Trump. As such, Americans quickly took to social media to express their thoughts. Some adopted the idea that West should not have met with the president. Others maintained a contrasting notion, citing that the rapper touched on important subjects and made a difference by meeting with Trump.
Yesterday's meeting with President Trump is not West's first time expressing his support. In April, the rapper tweeted that Trump is his "brother" and moreover professed that the two men share "dragon energy." The president later responded via Twitter by thanking Kanye and calling his support "very cool."
Readers of The Hill weighed in with their thoughts on the meeting between the rap mogul and the president of the United States:
"Dear Dems, this is what losing the black vote looks like."
"Liberals going full retard over an escapee from the plantation…"
"Liberal racism comes shining through…"