The grocery business operates on razor-thin margins. And inflation is continuing to drive up the cost of food in the US marketplace.
Acquisition news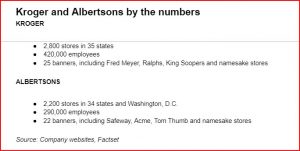 The supermarket giants are 1 and 2 in the marketplace. 
Kroger with its headquarters in Cincinnati, Ohio, is second only to Walmart by earnings in the U.S. It has the largest number of retail locations with 2,800 stores and around 420,000 employees in 35 states. And it owns its namesake brand, along with King Soopers, Fred Meyer, Ralphs, and Harris Teeter.
According to its website, Boise, Idaho-based Albertsons, has over 2,200 supermarkets in 34 states with 290,000 employees. And operates over 20 brands including Safeway and Tom Thumb.
Kroger has more than double the market cap of Albertsons with $32 billion. And Albertsons' market cap is approximately $15 billion.
The merger deal would create a consolidated company with a market valuation of about $47 billion. And it represents one of the biggest mergers in recent years in the retail space.
In 2014, Albertsons obtained Safeway for $9.4 billion.