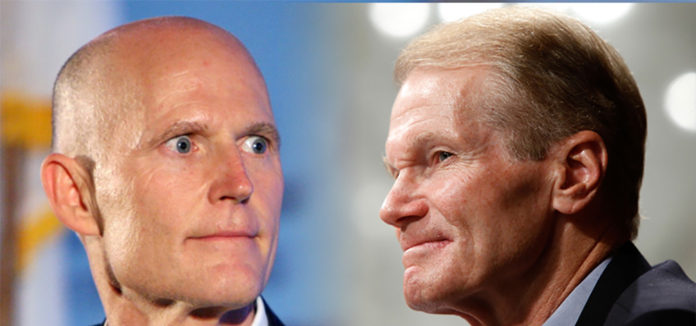 The latest polls show that Gov. Rick Scott and Sen. Bill Nelson are tied in a hypothetical run for U.S. Senate in 2018.
The survey was conducted among registered voters who plan to vote in November 2018. Both Scott and Nelson received 36% of the pool, with roughly 20% of those surveyed remaining undecided or uncertain.
While the match-up between Scott and Nelson remains hypothetical, the running theory in political circles is that the termed-out Governor of Florida will make a bid for three-term Senator Nelson's seat, which is up for re-election in the 2018 midterms.
Scott, who is considered a far-right conservative favored by the Tea Party is doing surprisingly well against a moderate Democrat in a purple state like Florida.
This is due, in large part, to the Governor's currently high approval ratings in the wake of a very active hurricane season for the Sunshine State. Most recent figures point to a respectable 59% approval rating for the rookie politician. This is a major improvement from his approval ratings during the last seven years he spent in office, which hovered around an average of less than 50%.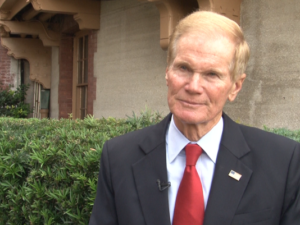 In contrast, former astronaut Bill Nelson received approval ratings in the mid 30's, which is lower than the 42% ratings he had as recent as February 2017. This is mostly because Nelson has been a highly obscure figure in the Senate – neither outspoken nor controversial – without any major legislative accomplishments.
Still, UNF director of Public Opinion Research Michael Binder claims that Democrats will be facing an uphill battle to get Nelson's public awareness level up. "When a three-term sitting U.S. senator has almost half of the sample unable to assess his job approval," he said, "you have a problem."
This problem may be assuaged by the Democrats' strong dislike of Republicans, especially President Trump.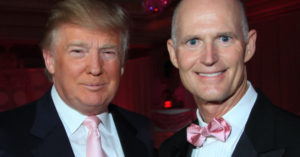 In Florida, surveyed voters have a high 59% disapproval of the President, with only 37% approval. Among Democrats, that number soars to 91% disapproval for the President. And, among no-party voters, there's a 66% disapproval rating for the President.
This could prove a major problem for Scott, and a major opportunity for Nelson's campaign, because Scott in inexorably linked to Trump. Scott was one of the earliest governors to endorse Trump, which he did as soon as the primary election was held in his state. On two occasions, the President encouraged Scott to run against Nelson while he was visiting the state.
Scott is also head of a pro-Trump super PAC called New Republican PAC.
Should Scott decide to run, which he most likely will, the Nelson campaign will try to paint him as a Trump henchman and a rubber stamp for the President's agenda in Congress. Scott will likely respond by painting Nelson as a Democratic "obstructionist."
In the end, the election will be highly indicative of the President's ability to achieve the same results he did during the 2016 election. Florida went for Trump the first time around, but will it go for him a second time even if he's not running against Hillary Clinton?