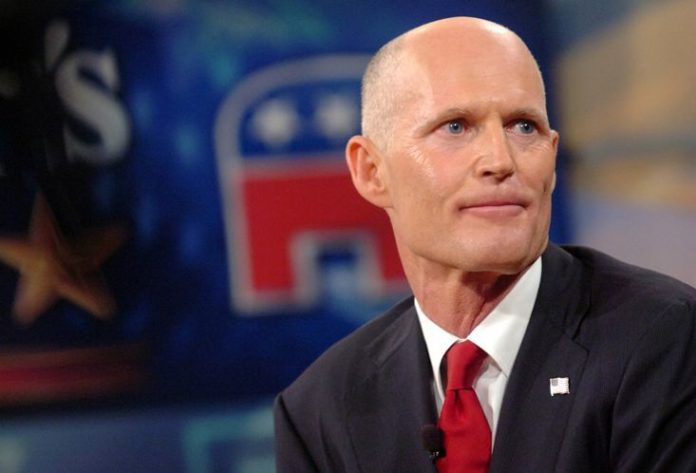 Florida Governor Rick Scott recently announced his decision to run for the U.S. Senate, challenging Democratic three-term Senator Bill Nelson.
Scott kicked off his campaign by saying that he will not fit in in Washington just like in Tallahassee. He promised to take his mission of creating jobs to Washington, and called for term limits in Congress.
Immediately after announcing his entry to the Senate race, Scott faced a barrage of attacks from various groups. They believe that he will not be a good senator to represent Florida in the U.S. Senate.
First, Scott decries career politicians, but he is going on the same path. He served eight years as a governor. Now, he wants to serve as a senator—that's another six years—if he wins the Senate race. Joe Henderson of Florida Politics commented, "Fourteen years sounds like a career to me." In other words, Scott appears to be a hypocrite.
Scott said he doesn't intend to fit into Washington as he does not consider himself as a politician. He said Washington is full of politicians and does not need another one to fix it.
Scott was a businessman before he became the governor of Florida. He co-founded Columbia Hospital Corporation, which merged with Hospital Corporation of America in 1989. The combined company Columbia/HCA became the largest private-for-profit healthcare company in the United States. Here is the interesting part, Columbia/HCA committed "systemic" Medicare fraud under his watch. The Medicare fraud scandal led to his ouster from the company on 1997.
Many are asking; If Scott failed to fix Columbia/HCA, which committed the largest Medicare fraud in history, how can he fix Washington as a junior senator?
Rick Scott doesn't care about senior citizens
Jon Bauman, the president of Social Security Works PAC, claimed that Scott doesn't care about senior citizens. Bauman believes that Scott wants to destroy Social Security by privatizing it—a disaster for 1.7 million seniors in Florida.
Additionally, Bauman said Scott showed his lack of care for the elderly during Hurricane Irma. He noted that the governor deleted voicemails from a nursing home asking for help during the disaster. His inaction led to the deaths of 14 seniors in that nursing home.
"Scott has a long history of putting his own best interests and those of his donors above the best interests of seniors and working families. He does not belong in the US Senate," said Bauman.
Social Security Works is a non-profit organization fighting to expand Social Security, Medicare, and lower prescription drug prices.
Democrats say Rick Scott is a self-serving politician
The Democratic Senatorial Campaign Committee (DSCC) described Scott as a "self-serving politician" and a "walking conflict of interest" with a secret financial account."
Scott is facing a lawsuit for allegedly violating state laws that require elected officials to fully disclose their personal wealth. Don Hinkle, a lawyer and a major Democratic fundraiser, alleged that Scott used his wife to control and protect his financial assets from public disclosure. The governor maintained most of his assets in a blind trust.
According to former Leon County Supervisor of Elections Ion Sancho, "This blind trust is nothing but a sham so he can personally profit while he was in public office."
Democrats accused Scott of enriching himself by $46 million while serving Florida as a governor. A report from Politico indicated that he owned a stock in Covidien, a company that received tax rebates from the state government.
Furthermore, Democrats claimed that Scott undermined environmental protections, which were placed by his predecessors. He does not believe that human activities cause climate change and does not want to address the issue.
Scott has been a supporter of domestic oil drilling expansion. Although he recently opposed the Trump administration's plan to open oil drilling in the coast of Florida, they believe he wasn't sincere. It was a political strategy as he needs an environmental credential since Sen. Nelson is a strong opponent of oil drilling.