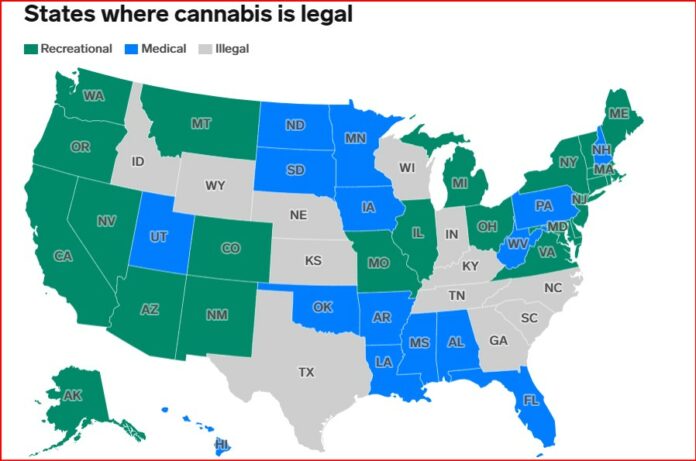 As the wave of marijuana legalization continues to sweep across the United States, the legal landscape surrounding its use remains complex. And the laws vary widely from state-to-state. 
While many states have embraced the medicinal and recreational use of marijuana, others maintain strict regulations and penalties for possession. 
Suicide Epidemic Hits Los Angeles Sheriff's Department, Four Found Dead – USA Herald
SAG-AFTRA Reaches Tentative Agreement to End Strike, Bringing Hollywood Studios Back to Life – USA Herald
Massive FBI Drug Bust in Massachusetts: 10 Million Doses of Fentanyl-Laced Pills – USA Herald
In the U.S., marijuana is still classified as a Schedule I substance under the Controlled Substances Act of 1970 at the federal level. Despite the federal regulations, individual states have been taking the initiative to reform their marijuana laws, leading to a patchwork of regulations that can be confusing for both residents and visitors.
At present, there are 19 states where possession of even small amounts of cannabis can result in jail time, even in states that have legalized its use for medical purposes. Alabama, Arkansas, Florida, Oklahoma, Pennsylvania, South Dakota, Utah, and West Virginia fall into this category. Additionally, seven states allow for the use of CBD oils containing THC, but the possession of marijuana remains illegal.
Marijuana Legalization
Ohio recently became the 24th state to legalize recreational marijuana, joining a growing list of states that have embraced both medical and recreational use. The evolving landscape reflects changing attitudes toward marijuana, with an increasing number of states recognizing its potential medicinal benefits and the desire to end the prohibition on recreational use.