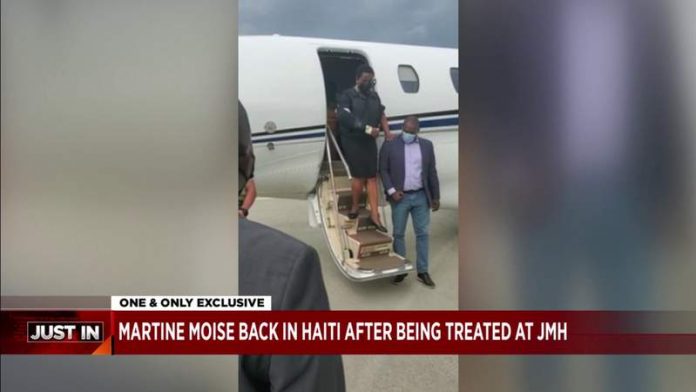 Martine Moïse landed at the Toussaint Louverture international airport  on Saturday. She spent the last 10 days hospitalized in Miami being treated for injuries resulting from the July 7th assassination of her husband Haitian President Jovenel Moïse.
 Mrs. Moïse was greeted on the tarmac by Interim Prime Minister Claude Joseph and other Haitian officials. 
Surrounded by security agents and wearing a bulletproof vest the widow was wearing all black. Her arm was still in a sling.
According to a Friday government announcement, the President will be laid to rest on July 23 in a state funeral. He will be buried in the historic city of Cap-Haïtien. And his widow has returned home to prepare for her husband's funeral.
The Prime Minister's office tweeted out photos of her arrival in Port-au-Prince.
La 1ère dame @martinejmoise vient tout juste d'arriver en Haïti dans le cadre des préparatifs liés aux funérailles nationales du Pdt @moisejovenel. Elle a été accueillie à l'AITL par le pm @claudejoseph03 . pic.twitter.com/q7AokC05mP

— Frantz Exantus (@FrantzExantusHT) July 17, 2021
Widow still in shock
 This week, she tweeted: "This pain will never pass."
Mrs Moïse has made few public comments since the attack. Haitian police are blaming a large group of commandos and foreign mercenaries, many of them Colombians.
From her Florida hospital bed, she did  record a message describing the attack. Assassins armed with assault rifles stormed their home in the hills above Port-au-Prince, and "riddled" her husband with bullets.
Mrs Moïse said the attack was so fast her husband was unable to "say a single word".
As a first-hand witness to the attack, authorities believe Ms Moïse could help investigators unravel the assassination plot.
Moïse, 53, had been president of Haiti since 2017. He was ruling "by decree" for the last 18 months. And prior to his assasination there were large demonstrations against  Moïse.
With the President's death the poor island country faces growing uncertainty. Poverty, increasing crime and longtime corruption have long plagued Haiti. 
The attack plot is under investigation
The Haitian National Police say a group of mainly foreign mercenaries 26 Colombians and at least two Haitian Americans are responsible for the murder.
With the arrest of Haitian-born Christian Emmanuel Sanon, 63, a Florida resident there are multiple links back to the US. The complex assassination plot allegedly involves Haitian Americans, a Florida-based security company, Columbian mercenaries, and the DEA.
Over 20 have been detained, while three were killed by police and five are still on the run. Haitian police now consider Sanon, a "key suspect" in the assassination.