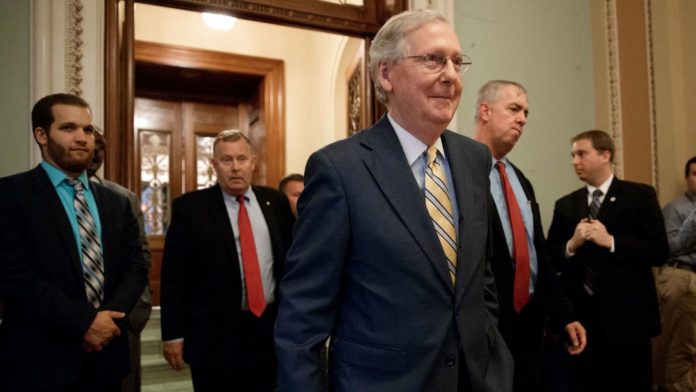 Senate Majority Mitch McConnell supports a GOP immigration bill that meets the demands of President Donald Trump. He believes that Secure and Succeed Act co-sponsored by seven Republican senators has the best chance of passing the Senate.
McConnell promised that the upcoming debate on DACA, border security, and other issues will be fair to all sides. He made the promise as part of the compromise to secure a budget deal last week.
GOP immigration bill addresses the priorities of all sides
On Monday, McConnell described the immigration bill as a "fair compromise" and a "compassionate resolution" for young undocumented immigrants also knowns as Dreamers. The Deferred Action for Childhood Arrivals (DACA) program is set to expire on March 5. The program shielded approximately 800,000 Dreamers from deportation.
According to McConnell, "I support the President's proposal and my colleagues' legislation to implement it. The Secure and Succeed Act is fair, addresses both side's most pressing concerns, conforming to the conditions the President has put forward."
In addition, McConnell said, the bill "offers a compassionate resolution for 1.8 million" Dreamers.  The measure provides border security funding and reforms the government's policy in chain family migration and the visa lottery program into a merit-based system.
"This legislation is a fair compromise that addresses the stated priorities of all sides. It's our best chance to producing a solution that can actually resolve these matters," said McConnell.
Last month, the White House released an immigration framework that offers pathway to citizenship for 1.8 million Dreamers. In exchange, the Trump administration wanted a $25 billion fund for border security.
Secure and Succeed Act of 2018
Senator Chuck Grassley, one of the sponsors of the Secure and Succeed Act, said,
"This legislation is a reasonable approach…This is a rare opportunity to fix a real problem and protect the country in a thoughtful and compassionate way."
The Secure and Succeed Act mirrors the White House's immigration framework. It will provide pathway to citizenship for 1.8 million Dreamers and border security funding of $25 million.
The bill will reform the family-based immigration that limits to spouses and children under 18 years old. It will reallocate the 55,000 visas in the Diversity Lottery program to reduce existing backlogs in family-based and employment-based immigration.