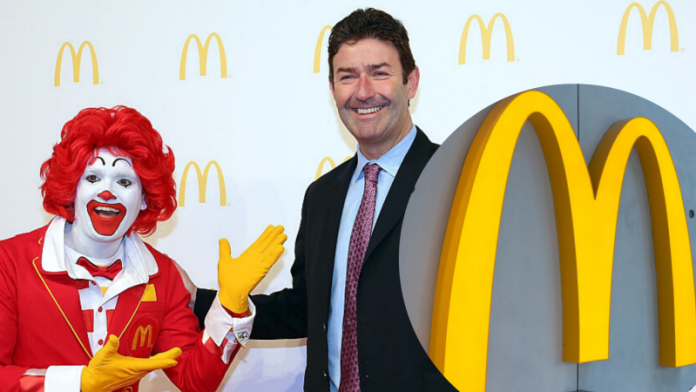 McDonald's is taking a closer look at David Fairhurst, who was head of Human Resources during the investigation of its former CEO, Steve Easterbrook. 
Fairhurst announced he was leaving McDonald's in November 2019, one day after Easterbrook was terminated from the mega fast-food franchise.
At the time, Fairhurst wrote on LinkedIn, "I have decided the time has come for me to move on to my next career challenge."
McDonald's said last week that Fairhurst was fired "with cause," and that it was unrelated to Easterbrook's termination. 
Fairhurst was fired after making female McDonald's employees feel "uncomfortable on numerous occasions at business events." According to notes from an internal meeting, lead by Heidi Capozzi, who joined McDonald's in April as the Global Chief People Officer to head up Human Resources worldwide. 
The company is now investigating whether Easterbrook covered up other executives' misconduct. And there are additional allegations into the Human Resource department from Easterbrook's time as CEO. 
The lawsuit: McDonald's v. Steven Easterbrook 
In August 2020, McDonald's filed suit to recover Easterbrooks' two-year severance package and stock options, estimated to be worth over $40 million.
Easterbrook acknowledged only one consensual sexting relationship before his termination in November 2019. Easterbrook was terminated "without cause" allowing him to receive a multi-million dollar severance package and benefits. 
In July, McDonald's launched a second investigation into Easterbrook's termination based on an anonymous tip. Investigators found photos that the company says in a court filing provide "indisputable evidence" of Easterbrook's sexual relationships with three employees.
The lawsuit and Easterbrook's response has been called the most public corporate airing of dirty laundry in recent memory. 
McDonald's alleges that Easterbrook lied, committed fraud, destroyed evidence, as well as violated corporate policy by having sex with three of his subordinates. They claim to have explicit photographic, as well as video and email evidence to support the case. 
Fairhurst and Easterbrook allegations of misconduct
Fairhurst and Easterbrook both started careers with McDonald's in the UK corporate office. Easterbrook became the company's first British CEO. Fairhurst was hired in 2005 and was promoted and awarded for his service. He won HR Magazine's first ever Lifetime Achievement Award for an HR Practitioner in 2012.
When Easterbrook relocated to Chicago to take the job as McDonald's CEO, he had Fairhurst transferred there with a promotion to the position of global chief people officer. 
They were friends, and it has been reported that both Fairhurst and Easterbrook were known for partying with their employees. Within the company, Fairhurst's drinking with employees, including the younger female staff raised eyebrows. There were rumors and ethical concerns.
At a Christmas party in 2018, Fairhurst allegedly pulled a female employee onto his lap. During McDonald's investigation of the incident, Fairhurst continued to lead the company's HR department until shortly after Easterbrook was fired. 
The investigation continues
The company did not provide more details. They said only that the investigation involves the HR department.
Some former managers told The Wall Street Journal they felt HR leaders under Mr. Easterbrook ignored complaints about the conduct of coworkers and executives. Some of those people said they feared retaliation for reporting the conduct of coworkers and executives to HR.
"The actions taken by former leadership aren't representative of this company as a whole, nor are they representative of us as an HR team," said Heidi Capozzi, HR chief.
"The board will follow the facts wherever they may lead," McDonald's said.
————————————————–
Have a story you want USA Herald to cover? Submit a tip here and if we think it's newsworthy, we'll follow up on it.
Want guaranteed coverage? We also offer contract journalism here.  Just be sure you're comfortable giving up editorial control because our journalists are dogged and will follow the story through to the conclusion. The story will be published to our exacting standards, without regard for your preferred slant.
Want to contribute a story? We also accept article submissions — check out our writer's guidelines here.