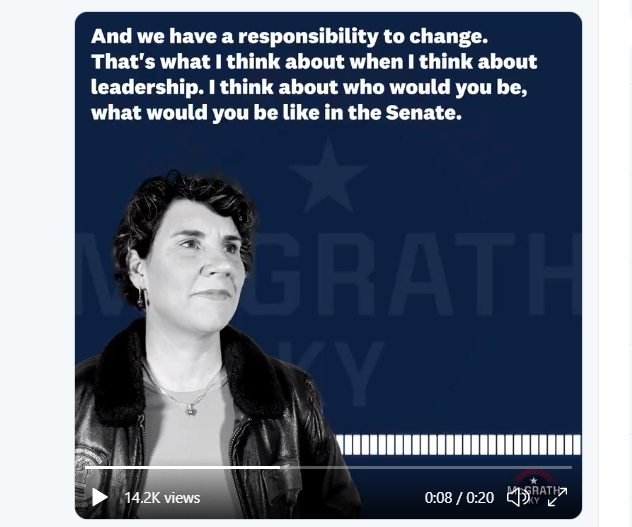 Amy McGrath, former marine fighter pilot, pulled in a tight win for the Democratic nomination in this year's Kentucky Senate Primary. She took 45% of the vote compared to Charles Bookers's 42%.
A close race
Booker put in a strong showing, looking like he might edge McGrath out early on in polling. He had picked up momentum following nation-wide Black Lives Matter protesting, and saw support from far left party leaders in the final weeks of his campaign.
But McGrath had Booker outraised and outspent — money she used to promote herself as the best option for beating McConnell. McGrath's politics are more moderate than Booker's and being a 20-year armed forces veteran can't hurt her in a predominantly red state.
A hard battle ahead
Democrats, who are ready to see McConnell gone are placing their hopes for an upset on McGrath, who managed to raise $40 million dollars, 96% of which came from out-of-state donors.
As far as how McGrath actually plans to defeat McConnell in a state that Trump won by 30 points in 2016, and McConnell has held for decades, is anybody's guess. But McGrath is no stranger to fighting the establishment, which she alluded to in a series of Tweets on Tuesday evening.
(5/7) As a woman in the military, I learned quickly that I'd have to fight the establishment to succeed. That's what is needed to end the grip of special interests on our government and achieve equal pay, equal justice, affordable health care for all, & voting right protections.

— Amy McGrath (@AmyMcGrathKY) June 30, 2020
And while Booker didn't exactly express support for McGrath, he did release a statement that expressed his pride in his campaign's accomplishments and having come from behind. Booker also talked about the voters left behind by McConnell who supported Democratic candidates.
Kentucky, I am so proud of you. I truly hope I made you proud of me too. It is my honor to stand on the front line for you.

We didn't win at the ballot box, but what we have done is undeniable. I am humbled. I am grateful. From the hood to the holler, I love you.

My statement. pic.twitter.com/enjWXqyMfn

— Charles Booker (@Booker4KY) June 30, 2020
Mail-in voting snafus
Kentucky was one of several states to use mail-in ballots for their senate primaries, which slowed down vote-counting as absentee ballots continued to come in. As a result, the final numbers weren't in until late Tuesday.
But while mail-in ballots were widely used, actual polling locations were scare — there was only one in Jefferson County, a county with a predominantly black population. Many expressed outrage at what they deemed voter suppression of black populations, according to reporting by Politifact.
Lack of polling centers resulted in long lines and hours-long waits, as well as many people being unable to cast their vote at all after polling centers closed. But Kentucky also opened up polling centers to early voting and despite problems, saw record-breaking voter turnout.
In Booker's statement above, he also touches on the issue of voter suppression while praising efforts to adjust voting to accomodate COVID-19 concerns.