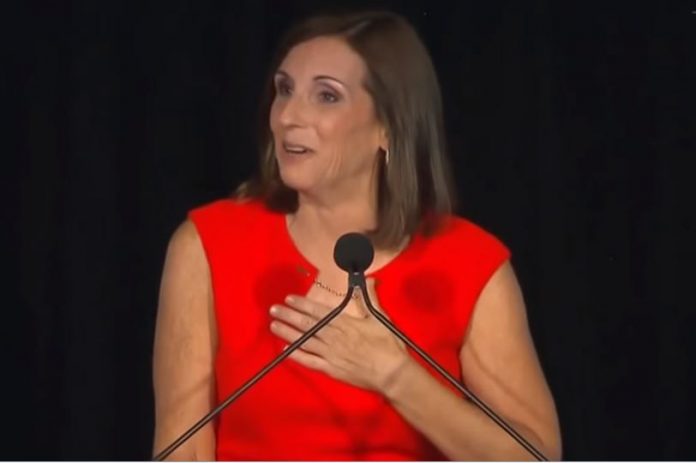 Republican Arizona Governor Doug Ducey appointed U.S. Representative Martha McSally to the U.S. Senate to fill the seat held by the late Senator John McCain.
She will replace Sen. John Kyl, who will be leaving the U.S. Senate on December 31. When Kyl accepted the job in August, he told Ducey that his commitment is to "serve through at least this season of Congress."
Ducey believes McSally is "uniquely qualified to fight for Arizona's interest"
In his remarks, Ducey said he chose McSally because she is the best person to serve the state of Arizona. He believes that the she possess the qualities of an effective leader.
"Arizona needs someone who understands the critical issues; who can get to work from day one; and who embodies a spirit of service— of putting the people we represent before all else. Martha McSally possesses these qualities," said the governor.
Ducey noted McSally's 26 years of service in the U.S. Air Force including her six deployments to the Middle East. The governor also emphasized that she was the first woman to fly in a combat and to command a fighter squadron in combat.
Additionally, Ducey said McSally represented Southern Arizona in the U.S. House of Representatives since 2015. He believes that she is "uniquely qualified to fight for Arizona's interests in the U.S. Senate."
McSally promised to uphold McCain's standard of service
On the other hand, McSally said, "I take seriously the call to service…As I now deploy to the Senate, I pledge to vote all my energies to ensuring Arizonans have a voice."
In addition, McSally expressed her intention to working with Democrat Kyrsten Sinema in the Senate. According to her, "There's a lot of common ground between us, and I'm ready to hit it running. Arizona's two Senators have always worked together — for decades. That's our tradition and how we are most effective – and that's how I plan to serve.
Furthermore, McSally said she is honored to have the opportunity to serve in the seat of McCain. According to her, she has an "immense respect for the late senator. She described McCain as a "giant in the Senate, an Arizona icon," and "an American hero."
She promised to hold herself to the same standard of service that McCain exemplified—putting country before self and always striving to do the right things for Arizonans.