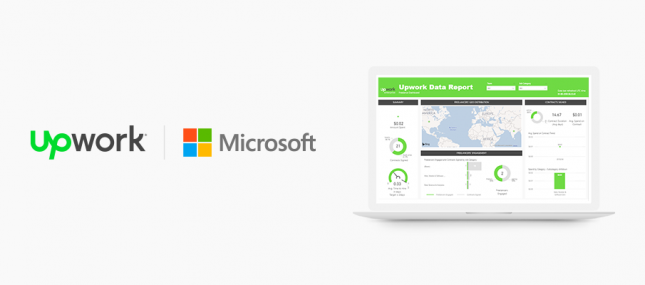 Today Upwork (Ticker: UPWK) announced that Microsoft has chosen Upwork as its launch partner for the Microsoft 365 freelance toolkit. The toolkit is an integrated workforce collaboration solution that helps enterprises work with freelancers at scale and is powered by Microsoft 365 and Upwork Enterprise.
According to sources, Microsoft is looking to possibly acquire Upwork, which is heralded by many as the premiere freelancing platform.   In previous articles we covered that Upwork has the potential to disrupt LinkedIn.  It's been my long opinion that Upwork is more valuable than LinkedIn due to the economic opportunities it creates for freelancers around the world like myself.
Enterprises are increasingly recognizing the need to transform the way they work in order to compete in a global economy. While enterprises today spend $3.5 trillion on contingent labor, existing models for engaging external talent are outdated and restrictive. Technology is enabling new ways of working by opening the door for enterprises to access flexible freelance talent. Together with Microsoft, Upwork is empowering organizations to adopt a flexible workforce model that delivers better visibility, greater access to skills, and richer reporting capabilities than can be gained through traditional workforce models by leveraging their most valuable asset—talent.
"Technology and changing worker preferences are driving demand for new skills and sources of talent. Enterprises are increasingly struggling to attract highly specialized talent at a time when speed and agility are more important than ever before," said Stephane Kasriel, CEO at Upwork. "By partnering with Microsoft, we're empowering enterprises to build effective workforce models that enable them to be more agile, innovate faster and create opportunities for growth. Enterprises can embrace workforce change by engaging the right talent where they are, hiring them on-demand in a few hours instead of a few months and helping their teams get more work done."
Inspired by its own journey towards embracing a flexible talent model, Microsoft partnered with Upwork to officially launch a new Microsoft 365 freelance toolkit. The toolkit provides tools, templates and best practices to help organizations effectively launch, execute and scale an enterprise freelance program. Built-in product features and integrations with Microsoft Power BI, Teams, SharePoint and Flow guide enterprises through the freelance engagement process.
In addition to partnering with Upwork to launch the Microsoft 365 freelance toolkit, Microsoft is using the Upwork Enterprise solution to launch a pilot program for specific teams at Microsoft in order to give employees access to a large pool of flexible, freelance talent.
"With 56 million people freelancing in the U.S. and unemployment at historic lows, enterprise companies are seeking new ways to access experts and flexible talent that help us accelerate projects," said Peter Loforte, General Manager for Microsoft Office. "At Microsoft, we have embraced the freelance model within specific teams to increase efficiencies and access the expertise of freelancers from around the world. Together with Upwork, using the Microsoft 365 freelance toolkit, we're also empowering other enterprises with a robust solution that leverages their existing Microsoft tools to extend workforce capabilities and simplify work with freelance teams."
Supported by a training and compliance framework, Microsoft's pilot freelance program has delivered substantial cost and time savings for the teams involved.
"Our journey toward embracing a freelance talent program was born out of a need to scale specific programs," said Paul Estes, Senior Director of Content Strategy for Microsoft Office. "Working with Upwork, we spearheaded a pilot program leveraging a team of freelancers to strategically complement our existing workforce and increase the team's productivity and efficiency."
Microsoft used the Upwork Enterprise solution, to launch an enterprise-grade freelance program, that allows them to give their employees access to a large pool of flexible, freelance talent. Within the past year, Microsoft has completed over 2,000 projects on Upwork ranging from writing, research, video editing, translation, design and data science, with adoption spanning across 25 internal teams and hundreds of employees.
For full details on the partnership please read: https://www.upwork.com/blog/2018/12/upwork-microsoft-freelance-teams-scale/.
Disclaimer: As a company that uses Upwork on a daily basis, many of us freelancers have made an investment in UPWK.   We believe in the platform fully.