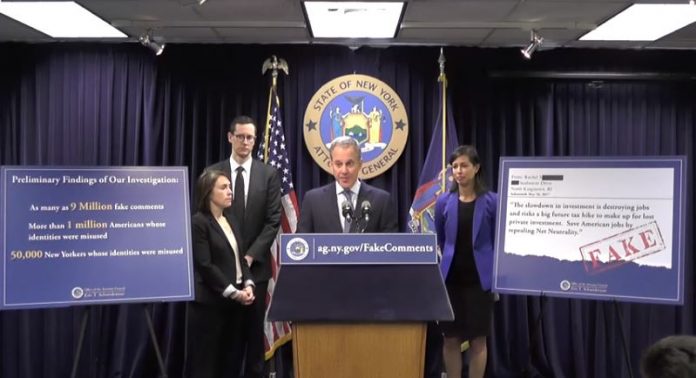 The Inspector General of the Federal Communications Commission (FCC) is now willing to help the New York Attorney General's Office in its investigation into fake comments regarding net neutrality.
Last month, the New York AG Eric Schneiderman said the FCC does not want to assist its office. The Commission refused its multiple requests for crucial evidence in its possession regarding the fake comments.
On Monday, the FCC IG changed its course of action after pressure and indicated its intention to help Schneiderman's office. The New York AG is investigating one million fake comments submitted during the net neutral comment process.
Schneiderman and FCC Commissioner Jessica Rosenworcell are requesting the Commission to fully cooperate with the investigation. They are also calling on the FCC to suspend its vote on net neutrality scheduled on December 14.
FCC net neutrality comment process was deeply corrupted
In a statement, Schneiderman said the FCC's net neutrality comment process was "deeply corrupted" based on his office's investigation.
According to Schneiderman, "For months the FCC refused to help us get to the bottom of what happened. That's why we asked New Yorkers to help." Over the past few days alone, thousands of Americans and hundreds of New Yorkers reported misuse of their identities.
In addition, the attorney general confirmed that the FCC IG's office signaled its intention to help. Schneiderman said, "We're going to hold them to that – In the meantime, it's vital that the FCC delay the vote until we know what happened."
The integrity of public records matter
On the other hand, FCC Commissioner Rosenworcel said America's "internet economy envy of the world because it is open." That is the main reason why she supports net neutrality.
Rosenworcel is against the Commission's plan to repeal net neutrality because it is using fake comments as guidance. She noted that nearly half million comments about net neutrality comment came from Russian e-mail addresses.
She said, "This is unacceptable. The integrity of the public record matters. The FCC needs to get to the bottom of this mess. No vote should take place until a responsible investigation is complete."