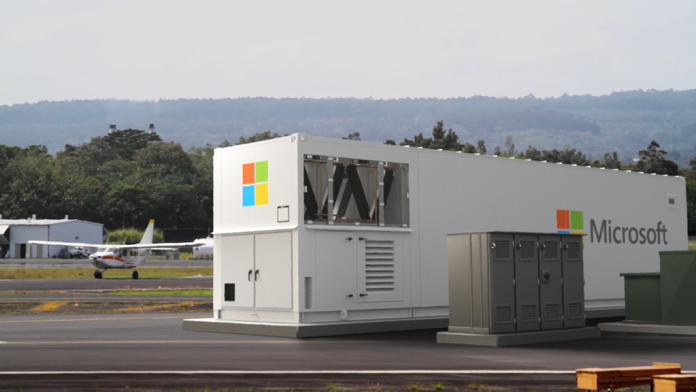 The new Microsoft business unit, Azure Space developed a strategic partnership with SpaceX, the pioneer and major player in the "New Space" industry. Microsoft Azure will get access to SpaceX's quickly developing Starlink satellite-constellation network for the optimum use of its  Azure Modular Datacenter (MDC). 
Microsoft software is taking its Redmond, Washington-based spinoff business the Azure Space cloud computing platform into new space. Azure Space hired a bevy of space-sector experts and engineers to develop services including space mission simulations, satellite data collection interpretation, and forecasting as well as, providing global satellite networking capabilities through partnerships with existing players.
Starlink internet is growing a mega-constellation 
satellite 
system
SpaceX continues ramping up its Starlink Internet service.  On October 18, SpaceX launched a bundle of 60 satellites from Kennedy Space Center. In a tweet, SpaceX founder and CEO, Elon Musk says that  efforts continue to provide "high-speed broadband Internet to locations where access has been unreliable, expensive, or completely unavailable."
Another planned mission for a  Falcon 9 rocket carrying 60 new Starlink satellites was canceled on Thursday, October 22, 15 minutes before launch time. 
Elon Musk followed up on the failed launch with a tweet, "Just a small-seeming issue with loss of upper stage camera. Probably nothing serious, but standing down to re-examine the whole vehicle just in case."
The Falcon 9 first stage rocket that wasn't launched this week has flown twice before. In September, it launched on a previous Starlink mission and it was also used in June on a mission to deliver the GPS capability enhancement for the U.S. Space Force.
SpaceX sent more than 800 Starlink satellites into low-Earth-orbit since 2019. The company is putting together a mega-constellation that may eventually number 14,000 satellites. The Starlink system aims to provide broadband internet coverage around the globe.
In October 2019, Musk sent the very first tweet using the Starlink satellite system.
In July this year, Morgan Stanley estimated that SpaceX could be worth as much as $175 billion if Musk's Starlink Internet service is successful.
Microsoft wants to deploy Azure Modular Data System (MDC) and the Azure Orbital Emulator
The MDC is an on-demand container-based data center unit that can be deployed in more remote locations, including space. The MDC works off-grid via its own satellite network connectivity add-on. It can operate on its own or can boost current capabilities, wherever they are placed.
Microsoft also revealed that the Azure Orbital Emulator provides a computer emulated environment with the ability to test satellite constellation operations in simulation. This takes a combination of software and hardware.
Microsoft Azure aims to recreate in-space conditions in order to better coordinate large, interconnected constellations of automated satellites in low Earth orbit, like SpaceX's Starlink. 
The Azure Orbital Emulator is already in use by Azure's government customers and is increasingly in-demand by defense agencies and private companies.
There are efficiencies and cost savings advantages to this technology. It is designed to help users spot potential problems very early on. The sooner problems are found the easier they are to fix. It becomes more complicated and more expensive to fix things once they are in orbit.
Microsoft says the goal of the Emulator is to enhance AI training for spacecraft before its actual launch. This will allow tracking from the development phase to production hardware before it is sent to space. 
Microsoft Azure is looking for other partners across government and industry for space-related services, this includes communications, security, satellite services (observation and telemetry) in the New Space vertical.
Tom Keane, corporate vice-president of Azure Global, says that "SpaceX is, of course, the name that people immediately think of when they think of innovation and the evolution that's occurring to bring space technology into the 21st century." With SpaceX and Microsoft working together, Azure hopes to become "the platform and ecosystem of choice for the mission needs of the space community."
—————————————-
Have a story you want USA Herald to cover? Submit a tip here and if we think it's newsworthy, we'll follow up on it.
Want to contribute a story? We also accept article submissions – check out our writer's guidelines here.