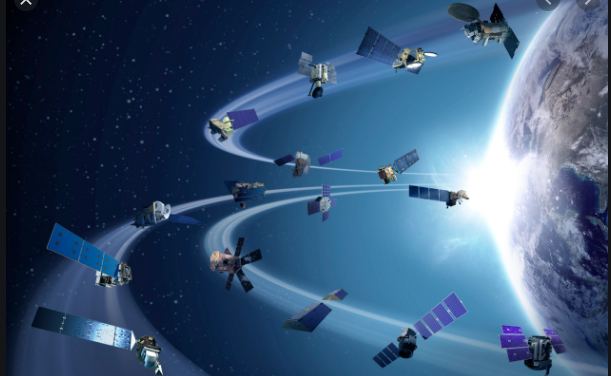 SpaceX won a contract worth $149 million to build hypersonic tracking satellites for the U.S. Space Development Agency's (SDA) planned mega-constellation.
Under the contract, SpaceX will design and develop four satellites outfitted with a wide field of view (WGOV) overhead persistent infrared sensors that will work in the low Earth orbit.
SpaceX submitted a compelling proposal to develop hypersonic tracking satellites
According to SDA Director Derek Tournear, the agency awarded the contract to SpaceX "based purely on technical merit."
SpaceX is known for pioneering reusable rockets, developing astronaut capsules, and launching the Starlink mega-constellation of hundreds of internet satellites to provide affordable broadband to consumers anywhere on the planet.  Its Founder and CEO Elon Musk believes the Starlink system will generate enough revenue to fund SpaceX's ambitious interplanetary goals.
SpaceX plans to use its Starlink assembly plant to build the four hypersonic tracking satellites. It is working with its partners to develop the WGOV overhead persistent infrared sensors, according to Tournear.
He said, "SpaceX had a very credible story along that line — a very compelling proposal. It was outstanding. They are one of the ones that have been at the forefront of this commercialization and commodification route."
Pentagon's new project to track hypersonic weapons
This is a new project by the Pentagon to track hypersonic weapons from space. It will be part of the initial batch of hypersonic tracking satellites in orbit by 2022.
Hypersonic weapons travel five or more times faster than the speed of sound. Therefore, they are difficult to detect. There are two types of hypersonic weapons, -the hypersonic cruise missiles and the hypersonic glide vehicle
Acting Deputy Undersecretary for Research and Engineering Mark Lewis said, "This SDA tracking layer is going to consist of a proliferated, heterogeneous constellation of WFOV space vehicles that provide persistent global coverage and custody capability. That's going to combine with activities in the Missile Defense Agency as they build toward their Hypersonic and Ballistic Tracking Space Sensor."
The SDA also awarded L3 Harris Technologies formerly Harris Corporation a contract worth $193 to build four hypersonic tracking satellites. Both companies are contractually obligated to deliver the satellites for launch by October 2022.
Building hypersonic tracking satellites will be challenging given the fact that hypersonic weapons such as intercontinental ballistic missiles (ICBMs) can travel long distances very quickly. In other words, the satellites must be able to track and intercept hypersonic weapons before hitting their target.
Satellites are sometimes lost-in-space
The last crash of satellites took place in 2009 when two Russian satellites collided in space. The inactive Cosmos 2251 slammed into the active Iridium 33 over Siberia creating debris that scattered into both higher and lower orbits. Early this year, two US satellites almost collided. Two now-defunct NASA satellites, IRAS, and GGSE-4, narrowly missed colliding above Pittsburgh.
No one can deny that space is getting more and more crowded. The SDA-SpaceX contract also represents a better technology to track errant and decommissioned satellites.
The Union of Concerned Scientists (UCS), claims that as of August 1, 2020, there are 2,787 operational satellites currently in orbit around Earth and listed in the Satellite Database. The U.S. 1,425 of the total number of satellites in orbit.
By the mid-point of 2020, 247 satellites were added to the database. Most of them were Starlink internet satellites and 126 satellites were deleted and are no longer operational, but still orbiting Earth.
—————————————-
Have a story you want USA Herald to cover? Submit a tip here and if we think it's newsworthy, we'll follow up on it.
Want to contribute a story? We also accept article submissions – check out our writer's guidelines here.