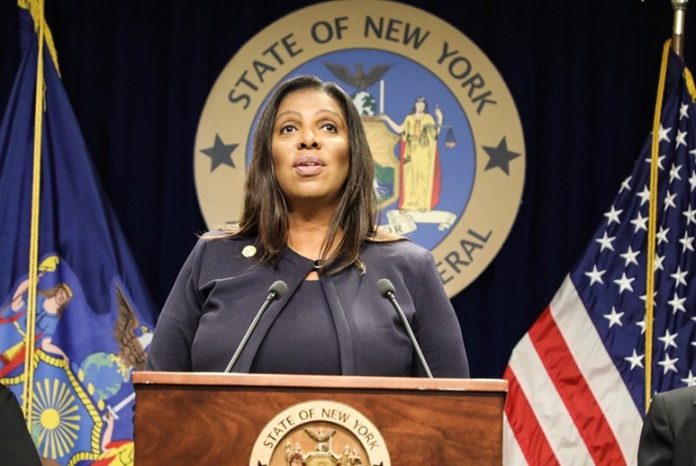 New York Attorney General Letitia James filed a lawsuit to dissolve the National Rifle Association (NRA), the largest and most influential gun rights organization in the United States.
Attorney General James' action comes after her office conducted an 18-month investigation that uncovered evidence that the NRA, under the direction of its top executives, engaged in widespread violations of New York laws including those governing the organization's charitable status.
In the lawsuit, Attorney General James claimed that the NRA's senior executives instituted an illegal, fraudulent, and oppressive culture of self-dealing, mismanagement, and negligent oversight at the organization.
The New York Attorney General specifically named NRA's Executive Vice President Wayne LaPierre, former Treasurer and Chief Financial Officer (CFO) Wilson "Woody" Phillips, former Chief of Staff and Executive Director of General Operations Joshua Powell, and Corporate Secretary and General Counsel John Frazer as culprits in the case.
James says the NRA is "fraught with fraud and abuse"
LaPierre, Phillips, Powell, and Frazer allegedly failed to fulfill their fiduciary duty to the NRA and used millions of dollars from the NRA's reserves for their own personal benefits. They also allegedly awarded contracts to family members, friends, and former employees to maintain loyalty. Their financial misconduct allegedly contributed to more than $64 million in losses for the organization in just three years, according to the complaint.
In addition to shutting down the NRA in its entirety, Attorney General James seeks to recover millions of dollars in lost assets and stop LaPierre, Phillips, Powell, and Frazer from serving on the Board of any not-for-profit charitable organization in the State of New York.
In a statement, Attorney General James said, "The NRA's influence has been so powerful that the organization went unchecked for decades while top executives funneled millions into their own pockets."
She added that the organization is "fraught with fraud and abuse." She is seeking its dissolution because "no organization is above the law."
NRA calls lawsuit "baseless" and an "attempt to score political points"
In response, the NRA called Attorney General James's lawsuit a "baseless, premeditated attack on our organization and the Second Amendment freedoms it fights to defend."
The organization added that it is "a transparent attempt to score political points and attack the leading voice in opposition to the leftist agenda. This has been a power grab by a political opportunist — a desperate move that is part of a rank political vendetta."
The NRA said it will not back down from the legal battle and expressed confidence that it will emerge victoriously. It said, "As evidenced by the lawsuit filed by the NRA today against the NY AG, we not only will not shrink from this fight –- we will confront it and prevail."
————————————————–
Have a story you want USA Herald to cover? Submit a tip here and if we think it's newsworthy, we'll follow up on it.
Want guaranteed coverage? We also offer contract journalism here.  Just be sure you're comfortable giving up editorial control, because our journalists are dogged and will follow the story through to it's conclusion. The story will be published to our exacting standards, without regard for your preferred slant.
Want to contribute a story? We also accept article submissions — check out our writer's guidelines here.