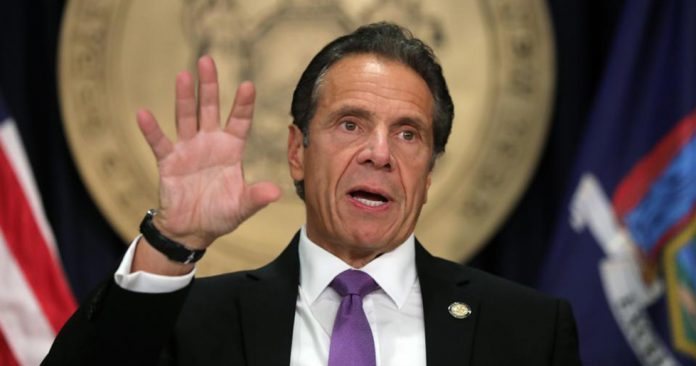 New York Gov. Andrew Cuomo is pushing for a law to criminalize the selling or administering of COVID-19 vaccine to individuals who are trying to skip the line.
In a press briefing on Monday,  Cuomo said any entity misrepresenting who they are or distributing COVID-19 vaccines to people not yet eligible to get the shot should lose their license and face criminal charges.
"This vaccine can be like gold to some people," Cuomo said. "If there's any fraud in the distribution — you're letting people get ahead of other people, or friends or family, or they're selling the vaccine — you'll lose your license, but I do believe it should be criminal, and I'm going to propose a law to that effect."
Cuomo plans to propose the bill when lawmakers convene for the 2021 legislative session on January 6.
The New York governor's move comes after a New York-based health care provider reportedly fraudulently acquired Covid-19 vaccines. ParCare Community Health Network allegedly transferred and administered COVID-19 vaccines to members of the public — a clear violation of state guidelines.
New York State Health Commissioner Dr. Howard Zucker said the health care provider may have transferred the vaccines to facilities in other areas of the state in violation of state protocols. 
The provider, Zucker said, administered the vaccines to members of the public "contrary to the state's plan to administer it first to frontline healthcare workers, as well as nursing home residents and staffers."
The New York Department of Health has backed the state police in launching a criminal probe into the issue.
New York has already begun injecting Covid-19 vaccines from Pfizer and Moderna to healthcare workers and members of vulnerable sectors.
The rollout, however, has been slow. Governor Cuomo urged New York hospitals to administer the vaccine faster. 
The governor said hospitals will face fines of up to $100,000 if they fail to administer their allocations of COVID-19 vaccines by the end of this week.
"You have the allocation, we want it in people's arms as soon as possible," Cuomo said. "We'll use other hospitals who can administer it better."
Have a story you want USA Herald to cover? Submit a tip here and if we think it's newsworthy, we'll follow up on it.
Want to contribute a story? We also accept article submissions – check out our writer's guidelines here.