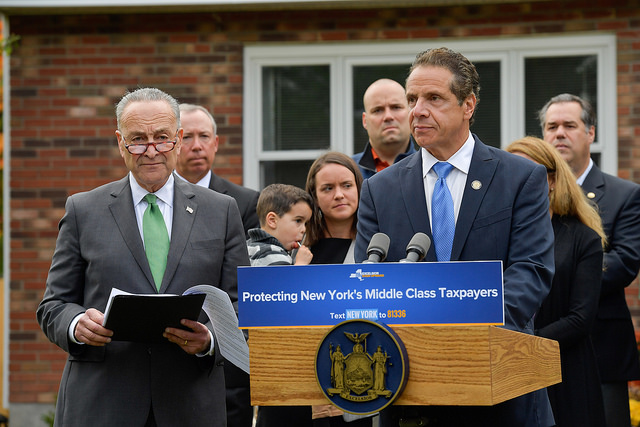 New York Governor Andrew Cuomo and Senator Chuck Schumer condemned the GOP tax plan as "double taxation."
 During a conference call, Cuomo and Schumer emphasized that the GOP tax plan is devastating to New Yorkers. On Friday, California leaders made a similar claim and called it a big tax cut for corporations and the wealthy.
Cuomo and Schumer called on several members of the New York congressional delegation to vote against the tax legislation. They include Republican Representatives Elise Stefanik, John Katko, John Faso, Claudia Tenney, Tom Reed, and Chris Collins.
The five Republican New York lawmakers praised the tax legislation as a starting point to fix the country's broken tax code. Cuomo and Schumer said these representatives are "voting for a tax increase for their districts."
House Speaker Paul Ryan and Ways and Means Committee Chairman Kevin Brady unveiled the Tax Cuts and Jobs Act on Friday. According to them, the legislation is beneficial to the middle-class and closes loopholes for special interests.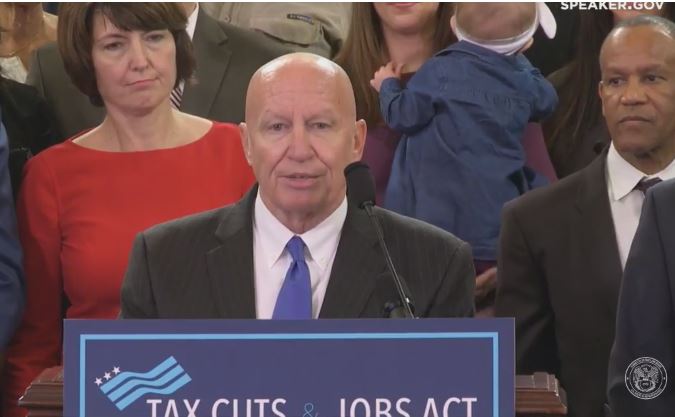 Schumer says GOP tax plan "put a dagger to the heart of New York"
On Monday, Schumer rejected Ryan and Brady's claim. The New York senator said the GOP tax plan is targeting the "middle-class benefits." It also "puts a dagger to the heart of New York" because it is taking away state and local tax (SALT) deductions.
According to him, the GOP's so-called compromise on the SALT deductions is still unacceptable. He explained that the compromise still takes away 71% of the critical deductions.
Schumer said, "In other words, for every dollar they were going to take away before from New Yorkers, now they're taking 71 cents. It's as if they said, well, in the past we'll chop off five of your fingers, now we'll only chop off three or four. Aren't we doing you a big favor? That is not how the world works."
According to the senators, New Yorkers want to get full deductions on property tax, income tax, and sales tax."
New Yorkers will suffer an average tax increase of $5,300
Additionally, Schumer said the GOP tax plan will increase taxes on New Yorkers by $16 billion. The average increase on taxes per person is around $5300. It affects around three million taxpayers in New York.
Furthermore, Schumer criticized Representatives Reed and Collins for their "disservice to New York by saying that they will still vote for the plan even though it hurts so many middle-class New Yorkers."
He added that right now, the key votes are in the hands of Reps. Stefenik and Faso. "If they were all at once to come out and say they would vote against this plan, the Republican leadership would have two choices. One, maintain the entire state and local deduction or two, let their plan fail," said Schumer.
Moreover, Schumer said New York will be hurt the most under the GOP tax plan. He said, "We need every single member of the New York House delegation to come out against the bill and compromise is still not good."
Cuomo says New York will get a lump of coal from Santa Trump
On the other hand, Cuomo noted the President Donald Trump's statement that the GOP tax legislation is a Christmas gift.
The governor emphasized that New York will not receive a gift but a "lump of coal from Santa Trump." He also described the GOP tax bill is an "arrow pointed at the heart of New York." It is also a "bad medicine for the entire country."
Cuomo shared Schumer's view that the GOP's compromise on SALT deductions doesn't work. The GOP tax legislation is a double taxation.
According to him, New York is starting with a $4 billion deficit this year. It is ludicrous to say that its economy can handle the impact of taking away SALT deductions.
Cuomo is urging Republican members of New York congregational delegation to vote as a New Yorker. He emphasized that they should not vote as partisan.
According to him, "They can try to rush this vote and get it passed and I'll tell you what's going to happen the next day. You're going to see this nation rise up and call for a repeal of what they just did."