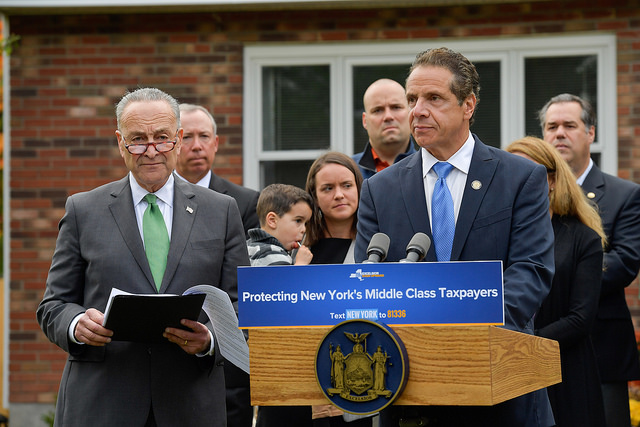 New York Governor Andrew Cuomo and Senator Chuck Schumer condemned the GOP tax plan as "double taxation."
 During a conference call, Cuomo and Schumer emphasized that the GOP tax plan is devastating to New Yorkers. On Friday, California leaders made a similar claim and called it a big tax cut for corporations and the wealthy.
Cuomo and Schumer called on several members of the New York congressional delegation to vote against the tax legislation. They include Republican Representatives Elise Stefanik, John Katko, John Faso, Claudia Tenney, Tom Reed, and Chris Collins.
The five Republican New York lawmakers praised the tax legislation as a starting point to fix the country's broken tax code. Cuomo and Schumer said these representatives are "voting for a tax increase for their districts."
House Speaker Paul Ryan and Ways and Means Committee Chairman Kevin Brady unveiled the Tax Cuts and Jobs Act on Friday. According to them, the legislation is beneficial to the middle-class and closes loopholes for special interests.