The Florida State University has indefinitely suspended Greek organizations on its campus after the suspected alcohol-related death of a freshman fraternity pledge. Another fraternity student was arrested for dealing cocaine.
A statement from University President John Thrasher's office said this:
"This pause is needed to review and reflect on the loss of a young life and to implement serious changes. For this suspension to end, there will need to be a new normal for Greek life on campus. They must participate in that culture."
FSU now joins Pennsylvania State University and Louisiana State University, where alcohol-related deaths and hazing charges have led to the suspension of Greek fraternities and sororities.
The circumstances of 20-year-old Andrew Coffey's death are still under investigation. The freshman was a member of the campus's Pi Kappa Phi fraternity, and was found dead on Friday after being found unresponsive after a party.
Investigators suspect that alcohol may be involved, but an autopsy report is still in the works. Law enforcement hopes to make a determination for cause of death as soon as the report is released.
The following Monday, another fraternity member, Garrett John Marcy was charged with the sale and trafficking of cocaine. Marcy is a member of the Phi Delta Theta fraternity.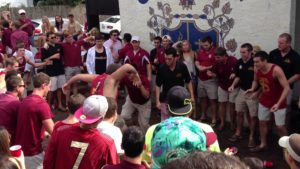 For as long as the suspension remains, Greek organizations will be barred from holding organized events. This includes events for philanthropy and social events, such as formals and semi-formals. They will also be prohibited from participating, in any organized fashion, in any homecoming activities next week.
However, students will be allowed to remain residents of their Greek houses.
In addition, President Thrasher has also banned alcohol at all registered student organization events.
FSU has long suffered from its reputation as a party school. This was always made worse by the scandals which erupted over the last several months pertaining to racist incidents and sexual assault. For each instance, FSU was viewed as never doing enough to combat against racism and sexual impropriety. In many cases, the school was accused of shielding male students, particularly athletes, in the aftermath of sexual assault, assault, and theft charges.
The most famous example is when Seminole football team quarterback Jameis Winston was accused by a nearby Publix Supermarket of shoplifting crab legs. Another incident involving Winston featured allegations of sexual assault by a female student.
Last year, FSU banned its chapter of the Tau Kappa Epsilon fraternity after reports emerged of alleged hazing in 2013. The account also included an incident where pledges were compelled to act as slaves and serve drinks. This was as part of a racist drinking game colloquially dubbed "Old South."
The fraternity was also accused of driving pledges from Tallahassee down to Ocala, a distance of 185 miles, and stripping them of their phones and wallets before abandoning them. They were also required to steal traffic cones and clean them.