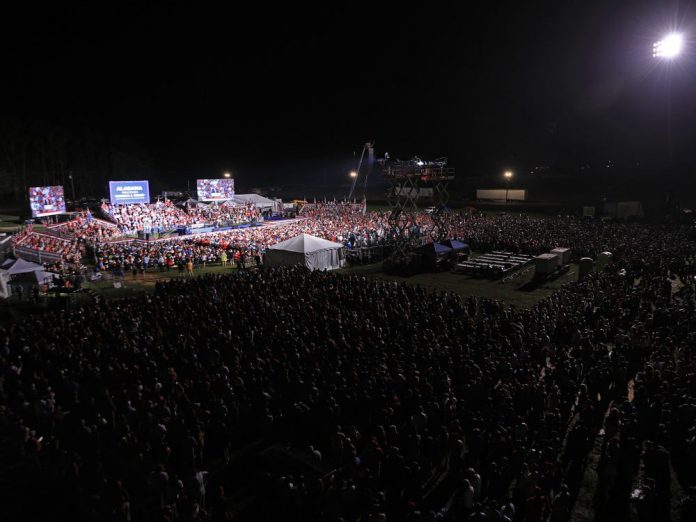 Newsmax TV scored unprecedented ratings wins this weekend. They gave full coverage of former President Donald Trump's Save America rally in Alabama. And won in all the categories of Nielson viewing ratings.
According to Nielsen data, the Saturday Newsmax coverage including the pre-rally events reached more than 3.3 million total viewers. But Trump's speech garnered 1.7 million viewers per minute, setting a new record.
Newsmax estimates that around 2 million live-streamed the network through streaming devices. And that yields an expanded audience of over 5 million viewers.
Trump and the media
Despite the fact that Trump has been shut down by most media (Fox didn't carry the Alabama rally) he still draws huge crowds. Newsmax's Saturday night programming is proof positive that he can draw crowds both at rallies and online. 
The Trump event was carried live from York Farms in Cullman.  And culminated with a classic Trump speech.
Newsmax doubled its viewing audience compared to Trump's July rally in Phoenix which netted 1.4 million. And the ratings continue to grow from his rallies in Florida, and Ohio held earlier this summer.
Insiders claim Trump may consider a presidential run in 2024.
And his speech certainly sounded like he was ready to run."I warned the entire country of the disastrous consequences of a Biden presidency," Trump said to between 45,000 and 50,000 in-person supporters. "I understood; a lot of you understood it."
The former commander-in-chief claims that a record $1.2 million was raised for his PAC at the Saturday rally.
Newsmax is now a contender 
Newsmax viewership has been growing with other media not covering Trump. And the news organization is excited to see its numbers grow.
"This is a huge win for Newsmax," Jason Villar, vice president of research and analysis at the station said. "We had a tremendous audience performance."
Nielsen reported that the news organization beat everyone in the 35 to 64-year old demographic.
Fox News only pulled 602,000 viewers per minute in the same time period. And CNN drew 476,000, leaving MSNBC with only 85,000.
Newsmax beat every news network in the key Nielsen Coverage Rating on Saturday. They drew a 1.42 share to Fox's 1.04, which made NewsMax ratings 30% higher than Fox's.
They launched the website in 1998. And Newsmax TV went on-air in June 2014 to 35 million satellite subscribers.
The service is free through most OTT streaming platforms and is available for downloading through the  Newsmax smartphone app.