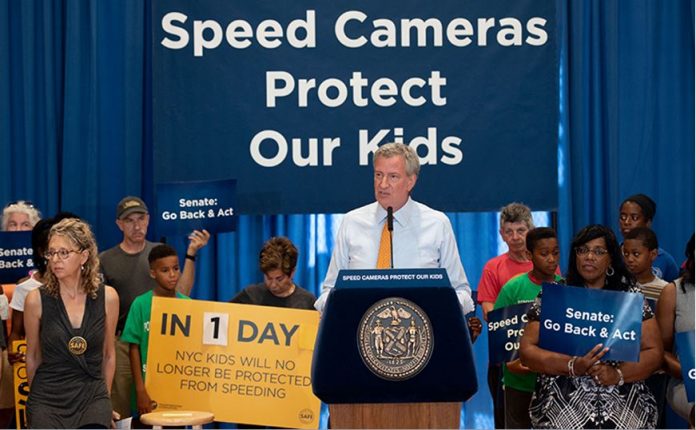 New York City Mayor Bill de Blasio encouraged the state Senate to preserve the city's speed camera program, saying that it has saved lives.
The state law that granted New York City the authority to test the speed camera program to prevent speeding in school zones is set to expire tomorrow. Last month, state lawmakers failed to reach an agreement to extend it before the end of their annual session.
On Tuesday, de Blasio participated in a rally to compel the state Senate to reconvene in Albany. He demanded that state senators act on a legislation to preserve the city's speed camera program.
NYC Speed Camera Program Said to Reduce Traffic Fatalities
During the rally, de Blasio said that the speed camera program had reduced speeding violations by 60 percent. He also said it had reduced traffic fatalities by 55 percent.
According to the mayor, New York City "just had the safest six months" in its history in terms of reducing traffic fatalities. He emphasized that "speed cameras were a big part of it." However, the city cannot continue operating the devices because the State Senate did not act on the speed camera bill.
"The Senate has to come back and finish the job," de Blasio said. "They have to come back and renew and expand the speed cameras so we can keep people safe."
In addition, de Blasio emphasized that his administration will do everything in its power to protect New Yorkers.
However, he said, "We can't do the same thing these cameras do in every place we need to be. We cannot replace the impact of 120 speed cameras with the resources that we have."
Furthermore, he said it is necessary for New Yorkers to keep fighting for the city's speed camera program.
"Even if we save just one life because of these speed cameras, it's worth it," de Blasio said.
Earlier this month, New York State Senator Marty Golden called on Senate Majority Leader John Flanagan to reconvene the Senate to vote on Senate Bill 6046-C.
The New York State Assembly already approved the bill, which will extend New York City's speed camera program by 2022. The bill will also allow the city to double the number of its speed cameras.
New York Gov. Andrew Cuomo strongly supports the speed camera program. In a previous statement, he criticized the Republican lawmakers in the state Senate for "putting politics over the lives of children."
"The Assembly has passed the bill and the Senate Democrats support it — now it's up to Senate Republicans to decide whether young people live or die," Cuomo said.