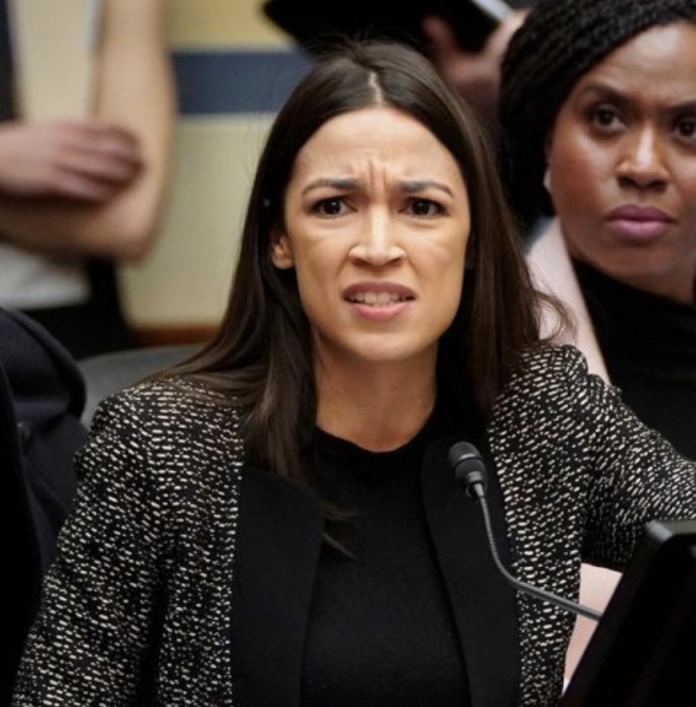 Rep. Alexandria Ocasio-Cortez is back in the news again; this time, she is making headlines over her controversial statements to former Navy SEAL veteran Rep. Dan Crenshaw.
Everything You Need to Know
The situation pertains to Reps. Alexandria Ocasio Cortez, Dan Crenshaw, and Ilhan Omar. During remarks at a public event, Rep. Omar referred to the fateful 9/11 as "something" that "some people did."
Of course, this did not sit well with many Americans, particularly conservatives. The fact of the matter is that the terrorist acts committed on September 11, 2011, killed nearly three thousand individuals. These heinous acts also changed America forever.
Therefore, Rep. Dan Crenshaw took to Twitter and expressed his displeasure with Omar's nonchalant reference to 9/11.
His tweet reads as follows:
First Member of Congress to ever describe terrorists who killed thousands of Americans on 9/11 as "some people who did something".

Unbelievable. https://t.co/IKtoZWWmIT

— Dan Crenshaw (@DanCrenshawTX) April 9, 2019
Now, for some reason, Crenshaw's tweet did not sit well with Ocasio-Cortez. Known to be close with Omar, Ocasio-Cortez took to posting her own tweet. In her post, she lectured Crenshaw, a former war veteran, about domestic terrorism. Finally, she told Crenshaw to "go do something" about it.
See for yourself:
You refuse to cosponsor the 9/11 Victim's Compensation Fund, yet have the audacity to drum resentment towards Ilhan w/completely out-of-context quotes.

In 2018, right-wing extremists were behind almost ALL US domestic terrorist killings. Why don't you go do something about that? https://t.co/rkb92IxkKX

— Alexandria Ocasio-Cortez (@AOC) April 11, 2019
Backlash Against Ocasio-Cortez's Statements
Similarly to Omar's 9/11 commentary, the statements which Ocasio-Cortez directed towards Crenshaw did not please many people. As such, Ocasio-Cortez has faced notable censure for lecturing a man who lost his eye on the battlefields about the plights of domestic terrorism.
Americans subsequently expressed outrage and disbelief in their criticisms of Ocasio-Cortez.
AOC implying @DanCrenshawTX, who served combat tours in both Iraq and Afghanistan (where he lost an EYE) in the wake of 9/11, hasn't done enough for the victims of September 11 terrorist attack is astounding, though not shocking. pic.twitter.com/iWAn1v4FiJ

— Natalie Johnson (@nataliejohnsonn) April 11, 2019
Well, it's obvious @AOC has no idea what @DanCrenshawTX sacrificed for our nation as a result of 9-11.

Thrashing outrage at a Navy SEAL's disgust over @IlhanMN's EXACT quote is pretty classless. Even by your standards Ms. Ocasio-Cortez.

Some of us will #NeverForget Sept 11. https://t.co/C8TaN5bIre

— Jessie Jane Duff (@JessieJaneDuff) April 11, 2019
. @AOC tells NAVY SEAL and wounded War Veteran @DanCrenshawTX to "go do something" about Terrorism…..🤦🏼‍♂️

At this point, I just want to meet her parents…..

I want to know who is responsible for what we are dealing with…..THEY owe America an apology🤦🏼‍♂️

— Graham Allen (@GrahamAllen_1) April 12, 2019
Omar's Response to Backlash over 9/11 Comments
Thus far, Omar has not apologized for dismissing 9/11 as "something" that "some people did." In fact, she has gone after Crenshaw for criticizing her choice of words. According to Omar, Crenshaw's words, coupled with additional censure is "dangerous incitement."
This is dangerous incitement, given the death threats I face. I hope leaders of both parties will join me in condemning it.

My love and commitment to our country and that of my colleagues should never be in question. We are ALL Americans! pic.twitter.com/foTZMpiZKv

— Ilhan Omar (@IlhanMN) April 10, 2019
As seen in her above tweet, Omar avows to possess "love and commitment" to America. However, this is something which certain people in this country have questioned. Omar's 9/11 remarks are not the first time she has caused controversy. Earlier this year, the congresswoman came under fire for suggesting that Israel was buying off American politicians.
Despite her controversial statements about events in America and U.S. politicians who support Israel, Omar continues to maintain that she loves the United States of America.