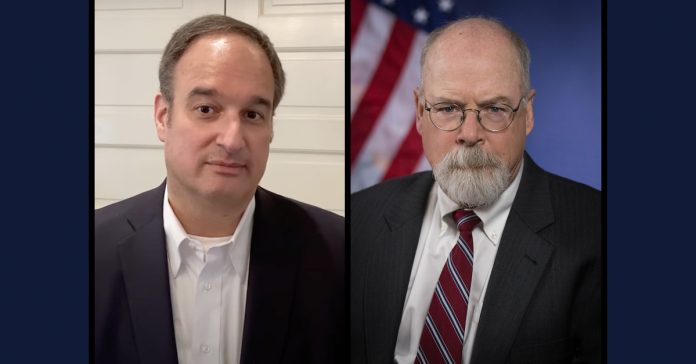 The Michael Sussman indictment was filed by Special Prosecutor John Durham on September 16, 2021. It was followed on November 3rd by the indictment of Igor Danchenko.
After almost a year of silence, the Durham Criminal Investigation came to life. And despite widespread attacks in the national media the detailed indictments of Sussman and Danchenko are available online.
The documents used a painstaking trail of evidence alleging that Sussman and Danchenko were working for the DNC. And Sussman was lying about that. 
It is also alleged that the Trump-Russia investigation and the Robert Mueller add-on were based on manufactured evidence created initially to help Hillary win the election.
But Sussman and the DNC couldn't have pulled this off alone. To create this smoke-and-mirror show he needed it to be amplified by compliant media. 
If you're watching. If you're reading. You may come to believe that history is being re-written in real-time. And if you are like me, you are wondering if the DNC is getting nervous.
Even worse you may have to admit that Trump was telling the truth when he said he was being wiretapped. And all of a sudden, the world seems upside down.
Michael Sussman indictment  
Michael Sussman is not a whistleblower. He was creating a narrative for a candidate. And he was truly lying when he pretended that he wasn't working for the DNC.
After all, Michael Sussman is a big fish involved in all levels of the Democratic Party. Sussman is one of the two principal attorneys of the law firm Perkins Coie law firm.
Perkins Coie is a massive law firm, with more than 1200 attorneys, and 20 offices worldwide. They even have an office in Communist China.
Perkins Coie is the counsel of record for the Democratic Party, and for:
the Democratic National Committee

the Democratic Leadership Council

the Democratic Senatorial Campaign Committee

the Democratic Congressional Campaign Committee
Michael Sussmann is a longtime power player in Democratic politics.
 In 2016, he was General Counsel to Hillary Clinton, during her Presidential campaign. And he was also serving as the General Counsel for the DNC (Democratic National Committee). 
Sussman directly served as counsel for:
The Presidential Campaigns of Barack Obama in 2008 and 2012

The Presidential Campaign of John Kerry in 2004

The Presidential Campaign of Kamala Harris in 2020