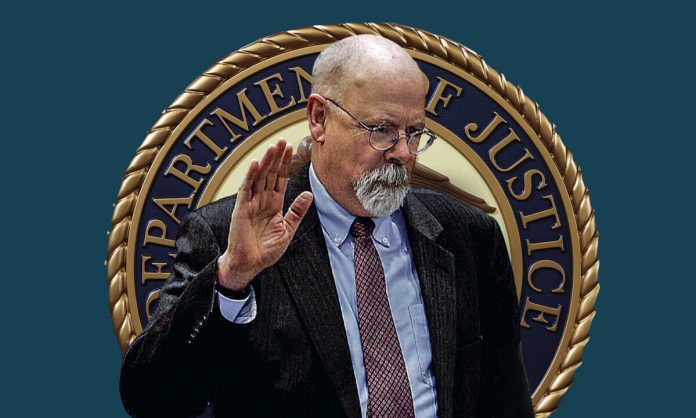 Special counsel John H. Durham has been looking into "Russiagate" since 2019. Then-Attorney General Bill Barr kicked off the Durham investigation into the FBI's probe of Russian election interference. Politics rather than any real crimes allegedly were the origin of the Robert Mueller Russia investigation.
The investigation into the now-debunked "Steele dossier" compiled by Hillary Clinton's campaign has been proceeding with limited cooperation from the FBI and DOJ. 
Democratic lawyer Michael Sussman was indicted last year for lying to the FBI general counsel James Baker over whether he was advising Hillary Clinton in 2016. The story that Sussman gave the FBI was during the Trump versus Clinton presidential campaign.
Durham claims that the FBI's watchdog, DOJ Inspector General Michael Horowitz, withheld important facts. And Horowitz failed to reveal that he met with Hillary Clinton campaign lawyer Michael Sussman in 2017.
Sussmann is accused of feeding the false Russian interference narrative during the election while advising Hillary Clinton's presidential campaign. Sussman told the FBI there were ties between the Trump Organization and a Russian bank. This has since been disproven.
Durham files for info from OIG in Court 
The Office of Inspector General (OIG) told the special counsel that producing all documents with regards to Michael Sussman would be "burdensome if not impossible."
In December 2021 Durham said, OIG Horowitz turned over a forensic report that claimed "it had 'no other file or other documentation relating'" to Russiagate. But the prosecutors believe the meeting between Sussmann, and Horowitz has "potential relevance to the charges at hand." 
According to court documents "The OIG had not previously informed the Special Counsel's Office of this meeting with the defendant."  And the filing says that Sussmann and Horowitz met to discuss claims by a client of Sussmann's (Hillary Clinton). Claims include that an OIG employee was connecting to a VPN in a foreign country.
Durham requests cell phone data
Durham's office says that it discovered in January that the OIG has two of Baker's cell phones, along with forensic reports with analysis.
"Since learning of the OIG's possession of these cell phones, the Government has been working diligently to review their contents for discoverable materials. The Government expects to make those materials available to the [Sussmann] defense later this week." 
Durham's office submitted an additional filing clarifying that OIG had requested custody of "a number of FBI cell phones," including the two owned by Baker, in 2018. And they had never received them.
The supplemental filing added that OIG had held a conference call with Durham in which "the cellphones were likely discussed."
"Special Counsel Durham has no current recollection of that conference call, nor does Special Counsel Durham currently recall knowing of the OIG's possession of the former FBI General Counsel's cellphones before January 2022," the filing reads.
Durham Investigation indicts 3, so far
Ex-FBI attorney Kevin Clinesmith pleaded guilty. And was convicted in 2020 of altering emails in the Russia probe. Clinesmith partially forged a government document. Because in order to obtain a FISA warrant a lie was necessary. He made the change to justify the surveillance and wiretapping of Carter Page.
In 2021, the Durham investigation had two indictments. Hillary Clinton campaign lawyer Michael Sussmann who is accused of lying to the FBI to kick off the Russia investigation. And Igor Danchenko, a Russian analyst who was a source for the 2016 dossier of allegations about Trump.
Both are pleading "not guilty" to lying to the FBI.
In November, when he was arrested, dossier source Danchenko, told authorities that his information was based on nothing more than "rumor and speculation."
In the new information filing Durham requested that the court allow his team to "produce limited, residual discovery on or before March 18, 2022." The request was granted by the court.
He had faced a January 28th deadline for unclassified discovery. And a February 11th deadline for classified discovery.