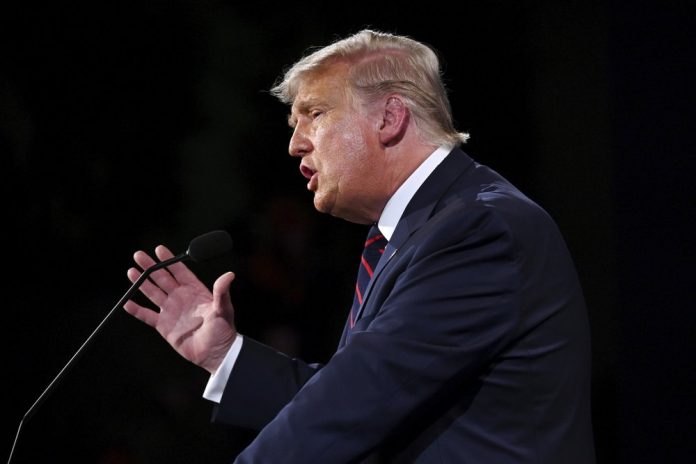 Regardless of where you sit on the political spectrum, most people can agree that Trump's strategy during Tuesday night's debate was both contentious and flamboyant.
Right out of the gate, Trump began throwing haymakers in an effort to unsettle his opponent, who admittedly has quite the track record of becoming flustered and overwhelmed when grilled on certain issues. This was the case for the entirety of the 90-minute debate as the president refused to let up.
It is understandable why Trump opted for this aggressive strategy. For one, it worked brilliantly during the 2016 election where Trump made quick work of his opponents, including Jeb Bush and Hillary Clinton.
Today, Trump faces an entirely different political opponent with his own set of weaknesses, namely a sparse presence on the campaign trail and an uninspiring political program that feels as if it was devised by the extremely liberal wing of the Democratic Party. In the first thirty minutes of the debate, Trump was keen to point out that Biden is being bullied by his less-than-moderate colleagues.
When the topic of law and order came to the fore, Trump blasted Biden for his lukewarm support of law enforcement, saying, "He has no law enforcement support," which Biden vehemently denied.
Trump's response was a shining moment in the debate, "If you look at Chicago where 53 people were shot and eight people died…it's crazy what's going on. He [Biden] doesn't want to say law and order because he will lose his radical left supporters and once he does that it's over with."
Moments like these were few and far between during the debate. Arguably, Trump's greatest advantage was to let Biden talk. As Biden has shown over the course of the campaign, letting him speak on issues often leads to memorable gaffes, factual errors, and an overall lack of substance.
This occurred again later on in the debate over the question of climate change and green energy. As Biden began to pitch his energy plan it became immediately apparent he was talking about the Green New Deal, a plan with a price tag of $100 trillion. Matthews and Trump pressed Biden on this, causing the former VP to stumble, saying he supports the Green New Deal and then 30 seconds later denying what he just said.
Instead of talking over Biden, it would greatly benefit Trump to let the man speak and counter specific assertions. If Trump can prove to voters that Biden isn't running on his own ideas, but those of the radical left, he may have a chance to shore up undecided voters.
The big takeaway here is, listen more and talk less.
As one debate viewer put it, Trump was punching up when he took on Clinton; with Biden, he was punching down.
—————————————-
Have a story you want USA Herald to cover? Submit a tip here and if we think it's newsworthy, we'll follow up on it.
Want to contribute a story? We also accept article submissions — check out our writer's guidelines here.