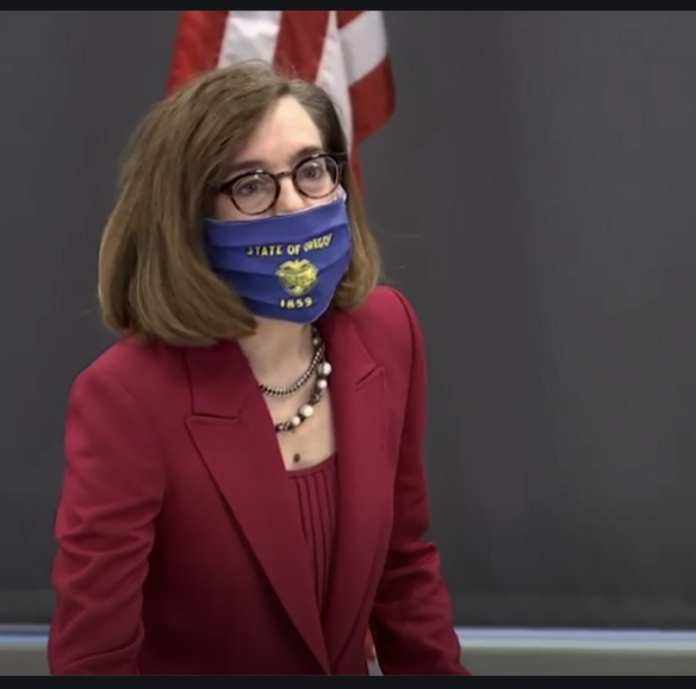 The national culture war surrounding face masks is far from over. At a nuanced level, this debate pertains to the morality and legality of mandating Americans to cover their faces in public. One of the latest politicians to be sued for issuing a face mask mandate is Oregon Gov. Kate Brown.
Some people are all for mandatory face mask decrees. People with this outlook believe that masking up will save lives and reduce the transmission of COVID-19. Some Americans have even gone as far as pushing for a national face mask mandate. However, President Trump maintains that he will not sign an executive order for a federal mask requirement.
Americans who take issue with face mask mandates are becoming more vocal. At this time, several politicians and health officials who issued face covering requirements are facing lawsuits.
A closer inspection of the lawsuit against Brown's statewide face mask mandate
The plaintiff in the lawsuit against the Gov. Brown is The Freedom Foundation, a conservative group. Put simply, The Freedom Foundation maintains that Brown went beyond her legal bounds by "ignoring the procedural rules" and implementing a compulsory masking order.
To remedy this issue, The Freedom Foundation is calling for the Oregon Court of Appeals to act. In layman's terms, the conservative group seeks an emergency stay of the mask mandate from the Oregon Court of Appeals. Then, The Freedom Foundation is calling for the courts to investigate the legality of Brown's statewide mask mandate.
At this time, the Oregon governor has ordered that individuals five years of age and above don face coverings in both indoor and outdoor spaces.
How is Gov. Brown responding to the lawsuit?
The Oregon governor continues to stand by her statewide mandatory mask order. Charles Boyle, a spokesperson for Gov. Brown, responded to the lawsuit in a statement.
This statement alleges that wearing face coverings protects businesses and saves lives. Boyle also claimed that masks prevent the spread of droplets from individuals' mouths and noses.
The Oregon governor is far from the first or last person to face a lawsuit for a mandatory mask order. Leaders on both sides of the aisle who have implemented these mandates are on the receiving ends of legal action.
————————————————–
Have a story you want USA Herald to cover? Submit a tip here and if we think it's newsworthy, we'll follow up on it.
Want guaranteed coverage? We also offer contract journalism here.  Just be sure you're comfortable giving up editorial control, because our journalists are dogged and will follow the story through to it's conclusion. The story will be published to our exacting standards, without regard for your preferred slant.
Want to contribute a story? We also accept article submissions — check out our writer's guidelines here.