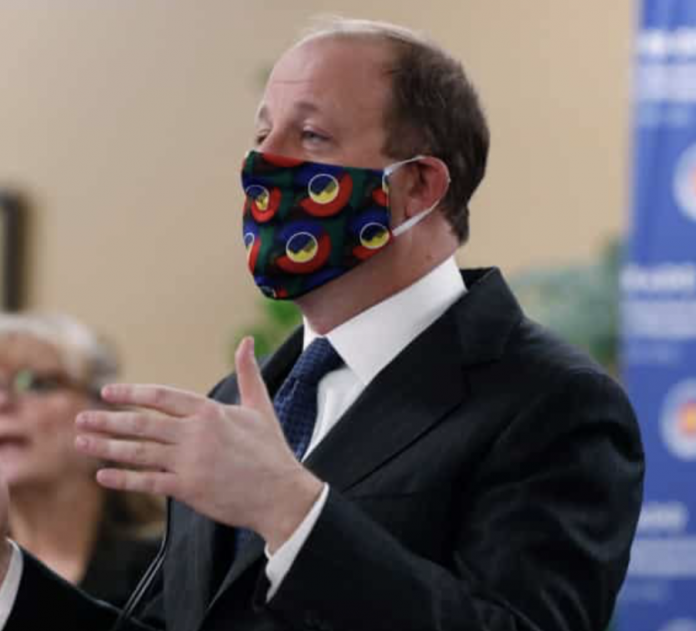 Growing numbers of conservatives across the nation are pushing back against mandatory face mask orders. Right now, Florida Rep. Anthony Sabatini is suing several counties and cities in the Sunshine State with mandatory mask orders.
Texas Gov. Greg Abbott (R) recently faced censure from conservative Texans over his decision to issue a statewide mask mandate. Meanwhile, just last week, the conservative think tank known as The Freedom Foundation sued Oregon Gov. Kate Brown (D) for implementing a mandatory mask order for state residents.
Lawsuits against leaders who require compulsory face masks are mounting, rather than disappearing. At this time, Colorado Gov. Jared Polis and multiple health officials in the state are facing a lawsuit from two Republicans seeking seats in the Colorado House of Representatives.
What to know about the lawsuit against Colorado's statewide mask directive
In federal court, Republicans Donna Walter and Mark Milliman issued a lawsuit against Gov. Polis and health officials in the state. Both Walter and Milliman have also maintained pro bono representation from lawyer Mark Patlan.
In a written statement, Patlan did not mince words regarding the message and intention of the lawsuit. The lawyer maintains that the Colorado governor's statewide mask order is a form of coerced speech, hence at odds with America's First Amendment and 14th Amendment.
Walter and Milliman also raised concerns about the science behind a Colorado statewide mask order. After all, the World Health Organization (WHO) has already gone on record, citing the asymptomatic spread of COVID-19 as a "very rare" occurrence.
In a further statement, Milliman slammed Gov. Polis for a politically-motivated "arbitrary and capricious policy." Likewise, Walter warned that the Colorado governor is forcing businesses to either absorb economic harm by shutting down their enterprises or potential physical harm by acting as the mask police.
Will mask mandates come to an end?
Governors who have issued face mask mandates have yet to rescind these requirements; however, several large retailers who previously announced face covering requirements for customers have since walked them back.
Businesses like Walmart, Lowe's, etc. state that they will not put their employees in harm's way by ordering them to enforce face covering requirements for customers. This decision arrives after viral videos of violent and even fatal confrontations over face mask enforcement.
————————————————–
Have a story you want USA Herald to cover? Submit a tip here and if we think it's newsworthy, we'll follow up on it.
Want guaranteed coverage? We also offer contract journalism here.  Just be sure you're comfortable giving up editorial control, because our journalists are dogged and will follow the story through to it's conclusion. The story will be published to our exacting standards, without regard for your preferred slant.
Want to contribute a story? We also accept article submissions — check out our writer's guidelines here.