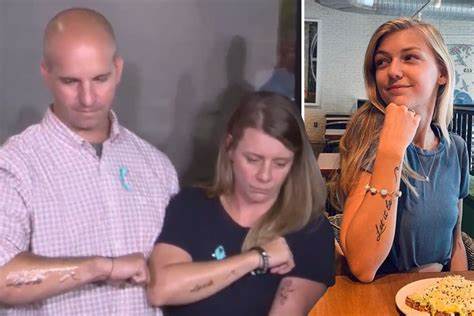 On Thursday, a lawsuit was filed by the parents of Gabby Petito. Joseph Petito and Nichole Schmidt filed in a Sarasota County Circuit Court. The lawsuit claims that Brian Laundrie told his parents he had murdered their 22-year-old daughter "on or around August 28th." And that the Laundries hired an attorney on September 2nd.
Both Brian and Gabby were from Blue Point, New York. But they moved to his parents' North Port, Florida home, in 2019. They became engaged on July 1, 2021.
The lawsuit claims that "Gabrielle Petito had hopes of becoming a travel influencer, a 'van-lifer' and document cross-country travels" on YouTube, Instagram, and TikTok. Gaby had a regular following before the trip turned deadly.
After her then-fiancée, Brian Laundrie, killed Gabby he returned to his parents' home in Florida. On September 1st he came back alone from their ill-fated van-lifer trip in her converted van.
The mysterious disappearance and search for the young woman got widespread coverage. And the discovery of her body on Sept. 19 in a Wyoming national park was attributed to a live stream of a family of "van-lifers."
The national obsession continued with the search for Brian Laundrie found dead in a Florida nature preserve.
Parents of Gabby Petito lawsuit
The lawsuit claims that until her disappearance, the parents of Gaby Petito and Brian Laundrie "had a cordial relationship." Petito had been in regular contact with her parents and posted frequently on social media about their travels. And Petito had been in regular contact with both her father and her mother.

The lawsuit contends that Christopher and Roberta Laundrie concealed that their son had confessed to the murder. And were not forthcoming with local police or Federal investigators. 
They also would not tell Gabby's parents she was deceased while the search for Gabby Petito was ongoing. And Roberta Laundrie even blocked Gaby's mom, Nichole Schmidt on her phone and on Facebook.
Between September 1st and September 19th Schmidt and Petito were searching for their daughter and pleading with the Laundries for help.
In the meantime, on September 6-7 the Laundrie family went on vacation to Fort DeSoto Park. 
"In doing so, Christopher Laundrie and Roberta Laundrie acted with malice or great indifference to the rights of (Gabby's parents) Joseph Petito and Nicole Schmidt," the lawsuit claims, adding that this conduct was "shocking, atrocious, and utterly intolerable in a civilized community."
The lawsuit adds that the Laundries were "making arrangements for him (Brian) to leave the country." No evidence was included with the lawsuit to prove this point.
The lawsuit seeks damages of a minimum of $30,000. 
The attorney for the Laundries, Steven Bertolino, said in a text message Friday that his clients were fully within their rights not to talk. He also denied the lawsuit's claims in general.
"This lawsuit does not change the fact that the Laundries had no obligation to speak to law enforcement or any third party including the Petito family," Bertolino said. "This fundamental legal principle renders the Petito's' claims to be baseless under the law."
FBI concludes investigation
Prior to her death the couple had a previous public quarrel and a history of domestic violence.
The FBI investigation found that Laundrie bludgeoned and strangled Petito. 
And that Laundrie sent misleading texts to her mother in an effort to make her believe Gabby was still alive.
It was disclosed at the time that Laundrie used her credit card to fund his trip home to Florida. He was charged with illegally using her credit cards before his remains were discovered in the Florida nature preserve.

Laundrie fatally shot himself in the Carlton Reserve swamp on or about September 15th.