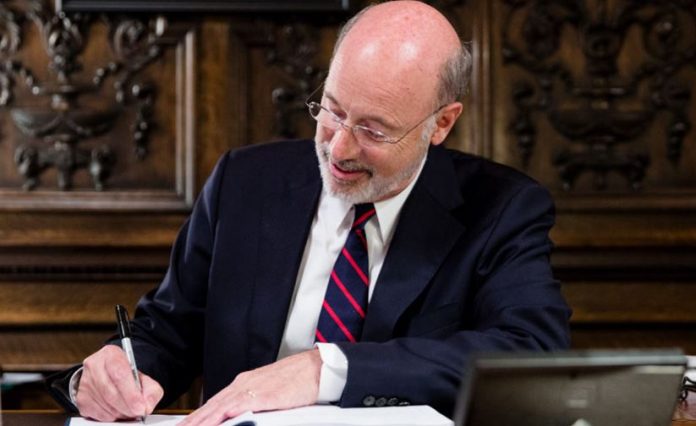 Governor Tom Wolf signed an executive order establishing the Pennsylvania Redistricting Reform Commission. It is composed of 15 members including two state senators and two state House members.
The governor appointed 11 of the commission's members including its chairman David Thornburgh, the president and CEO of the non-profit Committee of Seventy.
The commission  will listen to citizens and experts on how to make the redistricting process fair. It will also review non-partisan redistricting processes in other states that reduce gerrymandering. Then, it will submit its recommendations to the governor and the state legislature.
In a statement on Friday, Wolf said, "This commission will bring together diverse experts and citizens to explore ways that Pennsylvania could use policies, technology and data to curb gerrymandering and ensure fair maps."
Additionally, the governor stated, "There has been significant bipartisan support for bringing more fairness to this process."
On the other hand, Thornburgh commented, "The creation of this commission is an important next step in ensuring that all Pennsylvanians have a chance to be heard on this important and fundamental question of our representative democracy. I'm honored to be asked to serve and will do my best to make sure that the commission listens well, encourages a vigorous debate, and comes to conclusions that are thoughtful and fair."
Pennsylvania GOP leaders blast Wolf's move
Meanwhile, Pennsylvania Republican leaders including  Senate President Pro Tempore Joe Scarnati, House Speaker Mike Turzai, Senate Majority Leader Jake Corman, and House Majority Leader-elect Brian Cutler condemned Wolf's move.
They called the governor's action "grandstanding and a "distraction" to the legislature's work of examining the state's redistricting process. They stressed that the General Assembly is responsible for redistricting under the federal and state constitutions.
"We will not be props in his theater that is an attempt to be a make-shift alternative to the federal and state constitutions and will have no practical effect… The Governor can grandstand on redistricting all he wants. We will continue to do the real work of examining the redistricting process in a manner that is constitutionally sound and will produce fair maps through a fair process," said the Pennsylvania GOP leaders.
Pennsylvania legislature passed bills to form Independent Redistricting Commission
In April, State Government Committee of the Pennsylvania House passed a bill to establish an Independent Redistricting Commission.
In June, the state's Senate passed a similar legislation but Republicans attached amendments, which Democrats considered a "poison pill." The Senate sent that bill with the attached amendments to the lower chamber, but did not vote on it.
Wolf was willing to call a special session on redistricting reform in July if the legislature reaches a compromise agreement.