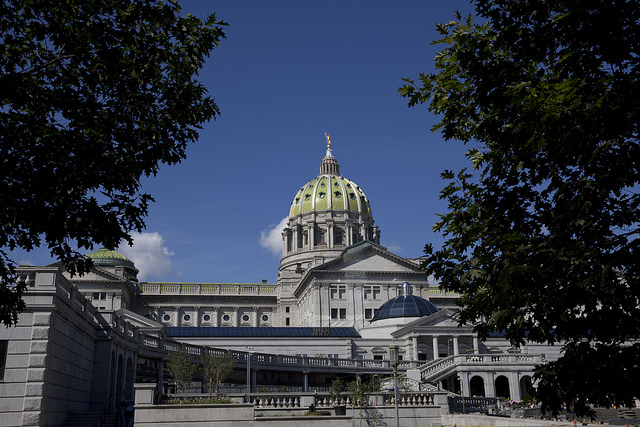 Pennsylvania lost round one in the legal battle against a medical malpractice insurer. A federal judge temporarily blocked its financial demand from the insurer until the lawsuit goes to trial.
The state government wants to obtain the money to help to help close its budget deficit. Last month, Gov. Tom Wolf signed a budget-related legislation to seize $200 million from Pennsylvania Professional Liability Joint Underwriting Association (JUA)
Earlier this month, JUA filed a lawsuit  challenging the state government's financial demand and threat to shut down its operations. In 1976, Pennsylvania created JUA as a private association. It does not receive funding from the state therefore its assets are private.
In its complaint, JUA argued that the plan to seize its $200 million will "seriously imperil" its operations. It will not be able to fulfill its insurance coverage obligations if it complies with the state government's demand.
Furthermore, the medical malpractice insurer described the state government's demand as unconstitutional nationalization of a nonprofit organization.
Moreover, JUA emphasized that its Reserves came from premiums and investment income. The state has no right to it. The State Insurance Commissioner or any regulator does not have the authority to determine that it has excessive Reserves.
Judge rejects the arguments of Pennsylvania state lawyers
JUA requested the court to stop Gov. Wolf's administration from sequestering its funds. This week, U.S. District Judge Christopher Conner granted its request. The judge suspended the state government's December 1 deadline for its financial demand from JUA until they go to trial.
In his ruling, Judge Conner rejected the state government's claim that JUA's Reserves belong to it. State lawyers argued that the governing plan of the insurer indicates that if it shuts down, its funds will go to the state.
According to the judge, the state lawyers misinterpreted the wording of JUA's governing plan, which states that its Board will decide the distribution of its assets. The State Insurance Commissioner, who is appointed by the governor, will approve the decision of JUA's Board.
Additionally, Judge Conner determined that JUA will suffer irreparable damage because the state cannot be held liable if its financial demand is later found unconstitutional.
Judge Conner has not set a schedule as to when the trial on the case will begin. However, he expressed his willingness to expedite a trial.
On Friday, Gov. Wolf's office said it is considering its options in the case. It did not say if it is planning to appeal Judge Conner's ruling.