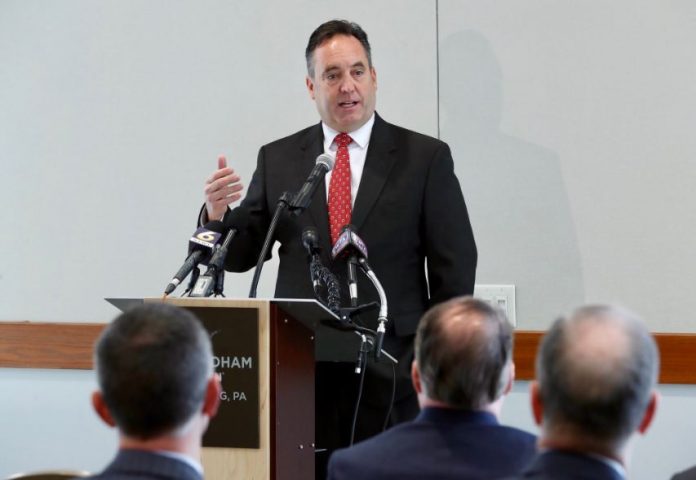 Pennsylvania Republicans are willing to discuss the issue of raising the state's minimum wage, which was stuck at $7.25 per hour since 2009.
Since last year, Gov. Tom Wolf has been calling on state lawmakers to pass legislation to raise the state's hourly minimum wage. He repeatedly pointed out that Pennsylvania is falling behind its neighboring states.
In January, Wolf proposed increasing Pennsylvania's minimum wage to $12 per hour this year. He also proposed gradually raising it by 50 cents until it reaches to $15 per hour in 2025.
Last month, Pennsylvania Senate Majority Leader Jake Corman (R- Benner Township) said he is open to a discussion on the governor's proposal.
"We're open to having a discussion. We think it's an important discussion to have. It's likely anything else: Do you want the issue, or do you want it accomplished. And if we want to get something accomplished, I think there's ways we can go about doing it," said Corman during a luncheon in Harrisburg on February 25, as quoted by the Centre Daily Times (CDT).
Corman's concern about Wolf's $12 per hour proposal
After a week, Corman told CDT that he remains committed to discussing the issue with the governor. However, he wanted the governor to reduce its proposed $12 per hour minimum wage.
Corman said Wolf's proposal was "not reasonable" and "would be a shock for the economy." He is worried that a big increase to the hourly minimum salary could result to layoffs. However, the Republican state lawmaker also believes that there's a room for compromise.
There's a significant support for raising the minimum wage
On the other hand, the governor's spokesman, J.J. Abbot, said there's a significant support for raising Pennsylvania's current minimum wage.
"Outside of a small minority, including those who support eliminating the minimum wage altogether, we believe there is significant support for going above $7.25 an hour. We are encouraged by the openness of some leaders to entertain an increase, and Gov. Wolf looks forward to hearing further from them on what they believe is fair."
Abbot also expressed his comment regarding the 2018 study released by the state's Independent Fiscal Office, which projected that 460,000 workers will benefit from Wolf's proposal. However, it would also lead to 33,300 job losses.
"Other states and cities have raised their minimum wage and not seen this impact over time. Pennsylvania workers are getting a raw deal compared to other states, including all of our neighbors, who have raised their minimum wages and not experienced the negative impacts that opponents always seem to use when debating this issue," said Abbot.
Additionally, Abbot said many full-time workers in Pennsylvania will remain in poverty if the legislature will not increase the state's minimum wage.
According to him, "Every Pennsylvanian will pay more for public benefit programs for those working who still can't make ends meet."