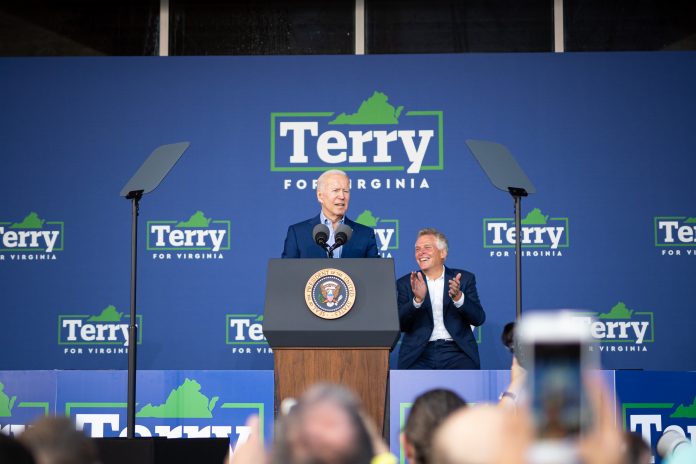 There are a series of issues where Biden's failed to do his job properly. However, the nation's economy is a massive casualty of the current administration's failure.
During a campaign speech for Virginia Democrat Terry McAuliffe, President Biden described America as "on the right track"; yet, the economy is the starkest example that America is far from on the right course.
Currently, Americans are wrestling with inflation and a supply chain crisis. The Biden administration has presented zero solutions to improve the economy; however, the spending bills they want passed into law would only engender more economic harm.
The president may be in denial about the state of the nation; although, the rest of America isn't. As a matter of fact, a survey from Axios/Ipsos shows Democrat voters and Independents are increasingly bearish on Biden's abilities to improve the economy.
Democrats and Independents on the economy under Biden
Right now, fewer than five in ten Americans have confidence in the economy as it currently stands. Interestingly enough, it turns out Democrats and Independents are the driving forces behind low confidence levels since Republicans have never collectively maintained confidence in Biden's abilities.
The Axios/Ipsos reveals just 71% of Democrats and 42% of Independents are confident in Biden's ability to ensure economic recovery. Earlier in 2021, Democrats' confidence in the president rested at 86%; Independents maintained confidence levels of 51% earlier this year, too.
The implications of this latest survey
Democrats and Independents are key voter blocs for President Biden. These voters played a very huge role in Biden making it to the White House as president; however, he's losing  their confidence and support.
The president has shown virtually no attention to seriously bettering the economy whatsoever. Cliff Young of the Ipsos U.S. Public Affairs declared Biden's lack of focus on the economy is hurting him.
According to Young, Biden should be letting vaccinated Americans know where the endgame in COVID measures lies and how they can resume normal, pre-COVID life. Young furthermore warns Biden's inability to do this and his rampant fixation on unvaccinated Americans is fostering "unease."
Unlike President Biden, the GOP remains vigilantly focused on the economy.