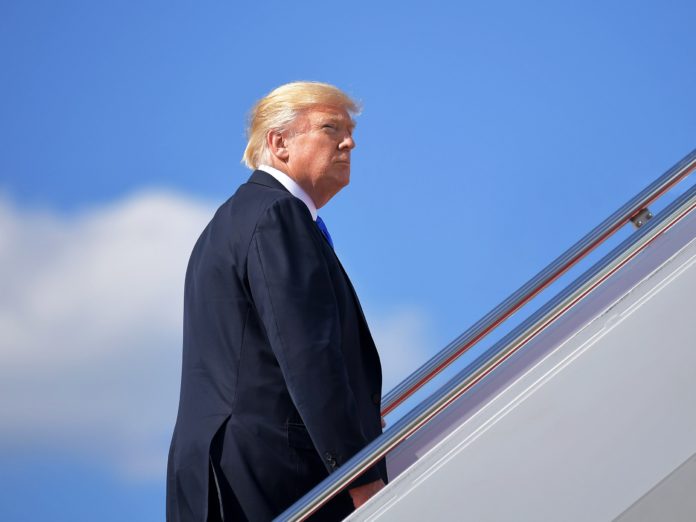 President Donald Trump expressed his rejection of the House Republican leaders' compromise immigration bill on Friday.
During an interview with Fox News' "Fox and Friends," Pres. Trump said he will not sign the compromise immigration bill. The  President previously expressed support to the conservative measure proposed by Rep. Bob Goodlatte.
He said,"I'm looking at both of them. I certainly wouldn't sign the more moderate one. I need a bill that gives this country tremendous border security. I have to have that. We have to get rid of catch-and-release."
The President's statement could potentially derail the House GOP's efforts to provide legal protections for DREAMers while strengthening border security.
On Thursday, the House GOP leaders released their draft compromise immigration legislation, which provides legal status to DREAMers.
The compromise immigration bill also provides $23.4 billion funding for border security. It will end the Diversity Visa lottery program and reduce family-based migration.
Additionally, the bill will prevent the separation of apprehended undocumented minors and their parents/legal guardian.
Trump blames Democrats for his administration's policy of separating undocumented families
In a tweet Friday, Pres. Trump blamed Democrats for his administration's policy of separating undocumented families caught crossing at the border.
The Democrats are forcing the breakup of families at the Border with their horrible and cruel legislative agenda. Any Immigration Bill MUST HAVE full funding for the Wall, end Catch & Release, Visa Lottery and Chain, and go to Merit Based Immigration. Go for it! WIN!

— Donald J. Trump (@realDonaldTrump) June 15, 2018
In April, U.S. Attorney General Jeff Sessions announced a "zero-tolerance policy" on illegal immigration.
During a law enforcement conference in Arizona last month, Sessions warned, "If you are smuggling a child then we will prosecute you. That child will be separated from you as required by law. If you don't like that, then don't smuggle children over our border.
On Thursday, House Speaker Paul Ryan said he opposes the administration's policy of separating undocumented immigrant families. He told reporters, "We don't want kids separated from their families."
Sessions uses Bible verse to defend zero-tolerance policy
Sessions used a verse in the Bible to justify the administration's zero tolerance policy.
During a speech to law enforcement officers at Forth Wayne, Indiana, he said, "I would cite you to the Apostle Paul and his clear and wise command in Romans 13, to obey the laws of the government because God has ordained the government for his purposes."
Sessions added, "Orderly and lawful processes are good in themselves. Consistent and fair application of the law is in itself a good and moral thing, and that protects the weak and protects the lawful."
During the 1840s and 1850s, defenders of slavery used the same verse to ward off abolitionists, who believed slavery is wrong," according to John Fea, a professor of American history at Messiah College in Pennsylvania.