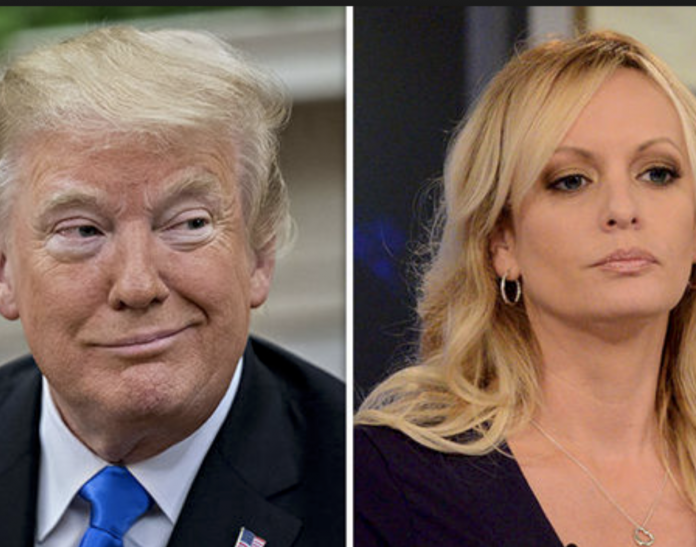 This morning, President Donald Trump tweeted about his legal battle with adult film star Stormy Daniels, according to The Hill.
An Overview of Trump vs. Daniels
The president's tweet came roughly 24 hours after a California federal judge tossed Daniels' defamation suit against him. The judge also ordered Daniels to cover Trump's legal costs.
"Federal Judge throws out Stormy Danials lawsuit versus Trump. Trump is entitled to full legal fees." @FoxNews Great, now I can go after Horseface and her 3rd rate lawyer in the Great State of Texas. She will confirm the letter she signed! She knows nothing about me, a total con!

— Donald J. Trump (@realDonaldTrump) October 16, 2018
Daniels' lawsuit against the president maintained that he defamed her character; the adult film actress claimed that she and Trump had an affair between 2006 and 2007. The president has subsequently denied having any relationship with Daniels.
Shortly after President Trump's earlier tweet, Daniels fired back:
Ladies and Gentlemen, may I present your president. In addition to his…umm…shortcomings, he has demonstrated his incompetence, hatred of women and lack of self control on Twitter AGAIN! And perhaps a penchant for bestiality. Game on, Tiny. https://t.co/6DpDD5ELtj

— Stormy Daniels (@StormyDaniels) October 16, 2018
Michael Avenatti, Daniels' attorney, also responded to President Trump's critical tweet:
You are a disgusting misogynist and an embarrassment to the United States. Bring everything you have, because we are going to demonstrate to the world what a complete shyster and liar you are. How many other women did you cheat on your wife with while you had a baby at home? https://t.co/npOKOEFju6

— Michael Avenatti (@MichaelAvenatti) October 16, 2018
More on President Trump and Stormy Daniels
Aside from Daniels' lawsuit, she has given several interviews. In March, the adult film actress appeared on '60 Minutes' and discussed her alleged affair with Trump. Daniels stated that she and Trump met at Lake Tahoe in July 2006 before eating dinner and meeting in a hotel room.
In April, Daniels appeared on 'The View' and explained why she decided to speak out about the alleged affair. The adult film actress stated that she is tired of being "bullied" and wants the truth to be heard.
Various Americans have weighed in with their thoughts about Stormy Daniels and her alleged affair with Trump between 2006-2007. Some people have stated that they believe Daniels, while others maintain that her assertions are politically motivated.
Shortly before the 2016 election, Daniels received a payment of $130,000 from President Trump's former lawyer, Michael Cohen. Therefore, some Americans have questioned why Daniels did not simply take the money and remain quiet.
Despite President Trump's denials of the alleged affair, Daniels and Avenatti maintain that they are telling the truth. Stormy Daniels also has a new memoir called 'Full Disclosure' which hit bookshelves on October 2, 2018. 'Full Disclosure' contains Daniels' account of her alleged tryst with Trump.
Readers of The Hill weighed in with their thoughts regarding the ongoing battle between Stormy Daniels and President Trump.
"He paid her not to tell her story right before the election, which is what the left was paying her to do."
"Where is the evidence a one night stand ever happened? We don't do accusations without evidence anymore. She's a stalker and extortionist."
"Keeping it classy."