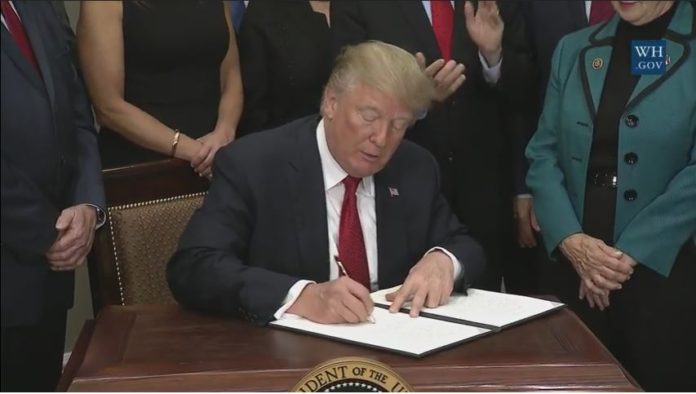 President Donald Trump signed an executive order to overhaul the country's healthcare system after Congress failed to replace and repeal Obamacare.
On Thursday, Pres. Trump said, "We've been hearing about the disaster of Obamacare for so long. I just keep hearing repeal and replace, repeal and replace. Well, we're starting that process, and we're starting it in a very positive manner."
According to the President, his administration is taking the first steps to provide millions of Americans relief from Obamacare through the executive order.
In his remarks, Pres. Trump explained that his latest action will increase competition, choices, and access to lower-price and high-quality health care options.  He emphasized that Americans will have "many options."
The President emphasized, "This will cost the United States government virtually nothing, and people will have great, great healthcare."
Expanding alternatives to Obamacare
Under the order, the Department of Labor will consider expanding access to Association Health Plans (AHPs) to allow businesses join together to form AHPs and offer health insurance to their employees.
"We aim to allow more small business to form associations to buy affordable and competitive health insurance. This would open up additional options for employers to purchase the health plans their workers want," said Trump.
Additionally, the Departments Treasury, Labor, and Health and Human Services (HHS) will consider expanding coverage through low-cost, short-term limited duration insurance (STLDI).
The Trump administration noted a study indicating that an average STLDI costs one-third the price of the cheapest Obamacare plans. STLDI is not subject to Obamacare mandates and rules.
In his speech, Trump said STLDI were "so attractive" but the Obama administration "crippled the market" to prevent people from leaving Obamacare plans. He said, "In fact, they prevented these plans from lasting more than three months."
Furthermore, the President promised that the Treasury, HHS, and Labor Departments will fix the issue and make STLDI widely available to people.
Moreover, the agencies will consider changes to the employer-funded Health Reimbursement Arrangements (HRAs). The goal is to give American workers greater control and flexibility to finance their healthcare needs.
A victory for Sen. Rand Paul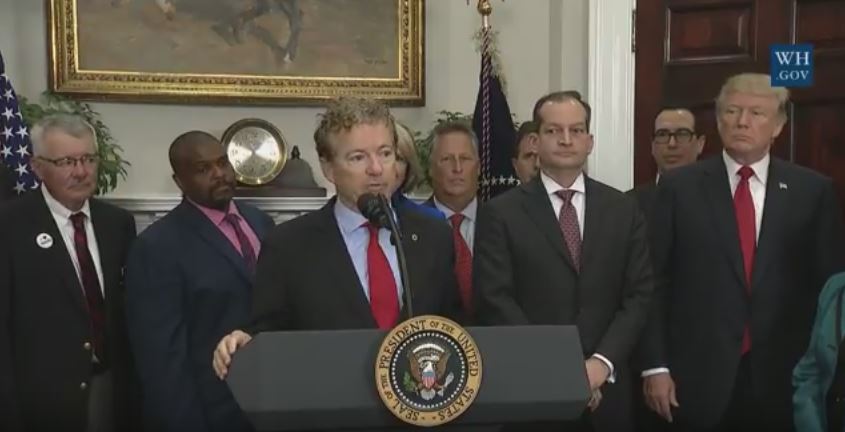 The executive order is a victory for Republican Senator Rand Paul. The Kentucky Senator has been pushing for the expansion of association health plans. He wants people to have choices to purchase lower-cost health insurance.
On Thursday, Sen. Paul said, Today is a big day. President Trump is doing what I believe is the biggest free market reform of healthcare in a generation." He also said, "I commend the President for having the boldness, the leadership, and the foresight to get this done,"
According to the senator, millions of people will get health insurance across state line at an affordable price if the reform works and goes as planned. He noted that 28 million people are left behind by Obamacare.
He also stressed that the executive order targets people who do not have health insurance or those with expensive coverage.