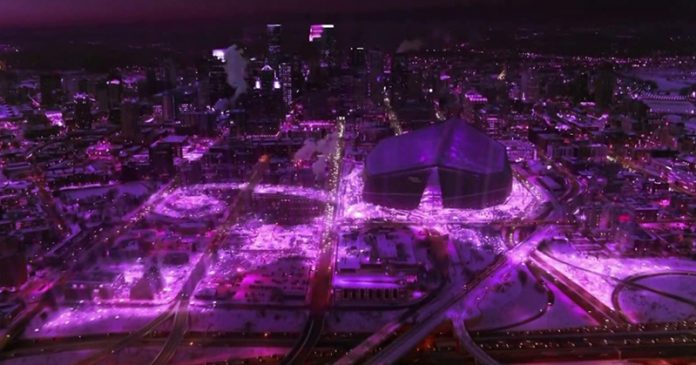 It wasn't a hologram but Justin Timberlake did sing a duet with the late pop superstar Prince in his home city of Minneapolis during the halftime show of the Super Bowl, and Prince's family approved.
Timberlake sang Prince's "I Will Die 4 U" with a video of the legendary singer behind him.
The camera panned out from U.S. Bank Stadium and the entire city of Minneapolis appeared to glow in purple with Prince's symbol superimposed over it.
It was a touching tribute to the artist who died in 2016, but not everyone on Twitter was a fan.
The Huffington Post's Yahir Ali tweeted "JUSTIN TIMBERLAKE IS BEYOND CANCELLED."
JUSTIN TIMBERLAKE IS BEYOND CANCELLED. pic.twitter.com/vZucoKYqNw

— Yashar Ali 🐘 (@yashar) February 5, 2018
And he was not alone.
NOOOOOOOOO! #Prince would HATE THIS! Eff you @jtimberlake This Minneapolis #Prince fan is not happy!

— Ann Freeman (@dancingdiva) February 5, 2018
Honoring Prince is a good thing. Disrespecting his wishes and using his image anyway is damned disrespectful. #JustinTimberlake #Prince

— donkey hoatey (@JohnLPender) February 5, 2018
One of #Prince's biggest fears as an artist, was his music being misappropriated. It's why he was so crazy about owning his masters and even gave up his name. This culture-vulture can kick rocks! #SuperBowlLII

— Laurence Holmes (@LaurenceWHolmes) February 5, 2018
If you ever shared two words with #Prince.
Or heard him speak.
Or saw him play.

You'd understand in the base of your bones — them deciding to hologram him at the SB — would've busted his heart to pieces. pic.twitter.com/TqK76Yacqi

— Vic Mahoney (@VictoriaMahoney) February 5, 2018
It was not a hologram. And Prince's family were fans of the tribute.
With a simple thumbs up the official Twitter account of the family of the late singer gave its approval.
👍🏽@jtimberlake https://t.co/ldBaIZxPhP

— PRNFamily® (@PRNFamily) February 5, 2018