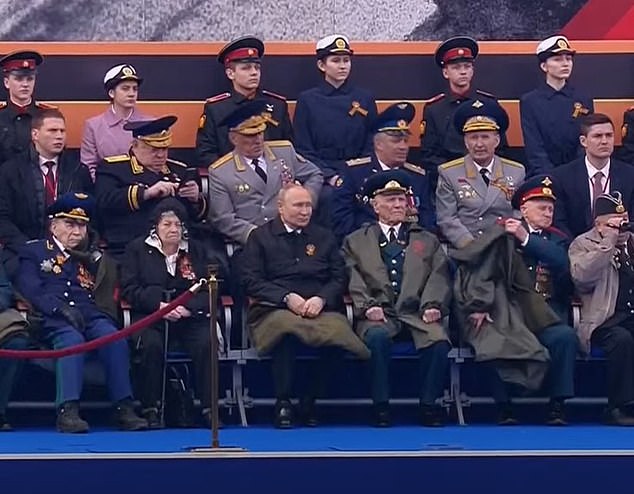 Top security officials believe that Putin maybe "his closest allies accept they've lost the war.' And that nothing can stop a Russian coup.
Major General Kryrlo Budanov, Head of Ukraine Military Intel says to expect an attempt to depose Vladimir Putin.
There have been persistent rumors that Russian leader Vladimir Putin has serious health issues. It has been speculated that he had back surgery in February. And that he suffers from Parkinson's disease or a fatal form of blood cancer.
Commentators have pointed out that Putin is extremely shaky, has a puffy face, and had to use a blanket to keep warm during Russia's Victory Day military parade last week.
And according to all media reports, the Russian dictator is in "a very bad psychological and physical condition."
Putin's preventative measures
The Federal Security Service (FSB), the Federal Protective Service (FSO), and The Rosgvardia are agencies that protect Putin. 
Putin has attempted to make his regime "coup-proof." State propaganda doesn't give the people true information. And much of the internet has been blocked in Russia.
Putin's assassination squads are also active around the world to eliminate any opposition. The death of so many Russian oligarchs is an indication that Putin is terrified in the current environment. 
The suspicious deaths also alert the elite oligarchs that they may be eliminated if they don't act now.
Russian coup imminent 
Budanov claims that when the Russian military is defeated it will lead to Russia's collapse and Putin's complete loss of power.
According to Budanov "It will eventually lead to the change of leadership of the Russian Federation, and this process has already been launched."
And he adds the plans are already in place. "They are moving in this way, and it is impossible to stop it."
The disastrous military invasion of Ukraine has been plagued with performance problems.  The military and citizens are demoralized by the war. Mounting casualties and large numbers of wounded are continuing to upset the public.
The Russian economy is suffering under the weight of international sanctions. And goods imported to Russia along with exports in the oil and gas industry are being shut down.
These conditions are turning his own people against the Russian dictator. And it is much more likely that Budanov is correct that a coup is coming to Russia soon.