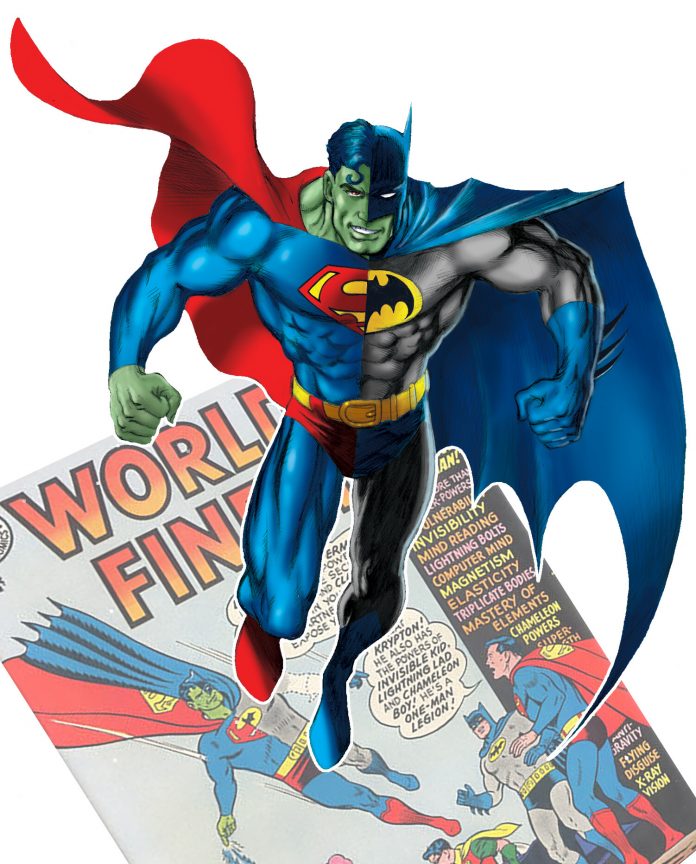 The new Batman/Superman saga features a new combo character similar to the original Composite Superman on the World's Finest #142 inked in 1964. He was a supervillain who died a hero in WF #168.
 Batman/Superman: World's Finest #3, is still available for pre-order from DC comics. But the cutoff is Sunday.
We can expect to see a character with high-level Batman detective skills paired with the man of steel physical prowess of Superman. And the newest addition to the DC world will be a "Badass" Batman/Superman combination. 
Illustrator Dan Mora brings the character to life with his variant cover for Batman/Superman: World's Finest #4. 
Mora tweeted that "I had a blast drawing this guy.' 
Best of both worlds? Find out exactly what's happening on this new open-to-order variant cover in BATMAN/SUPERMAN: WORLD'S FINEST #4, on sale June 21! Preorder at your local comics shop by this Sunday. pic.twitter.com/Iyb7mj9iaW

— DC Nation (@thedcnation) May 20, 2022
The artwork reveals a mash-up superhero that mixes the uniforms and logos of the Man of Steel and the Caped Crusader. More will be revealed in Batman/Superman #3 and #4.
Upcoming issue #4 is written by Mark Waid. It had variant covers contributed to by Riley Rossmo, Freddie Williams II, and Derrick Chew. And the issue goes on sale from DC on June 21st.
Mora also gave a sneak peek on Instagram. 
Dan Mora Chaves (@dan_mora_c) • Instagram photos and videos
The original Composite Superman
When you combine Batman and Superman into one person you may end up with a superhero or a supervillain. And in the 1964 version, we had a conflicted character. What started as an evil villain ended dying a hero's death.
In World's Finest #142 the original Composite Superman was introduced back in 1964. 
His not-so-secret identity was named Joseph Meach. He was a down-on-his-luck diver when Superman saved him. Meach was offered a janitor's job at the Superman Museum. 
Meach was not happy with his new job. And was a disgruntled custodian the night a bolt of lightning struck an exhibit about the Legion of Super-Heroes.? And the collective powers of the Legion were transferred to Meach.
Modern-day Batman/Superman
Exactly who the new character is and how he gets his powers will be revealed in WF #4. 
The upcoming issue will continue the epic battle between Batman and Superman against Green Lantern.  Although he is a fellow member of the Justice League, the Green Lantern is mind-controlled by the devil Nezha. 
And issue #3 ended with the Lantern trapping the caped crusader and the man of steel in a magic cage construct. In the meantime, Nezha is in the Batcave looming over Batman's faithful butler, Alfred.
While the two heroes battle Nezha in the present, Robin and Supergirl will be searching in the past for a way to stop him. And they are time traveling to China in 1579 B.C.
The Waid and Mora collaboration will also feature other fan favorites of both the hero and villain variety. And the series will also include appearances from Wonder Woman, the Doom Patrol, Poison Ivy, the Flash, and others.