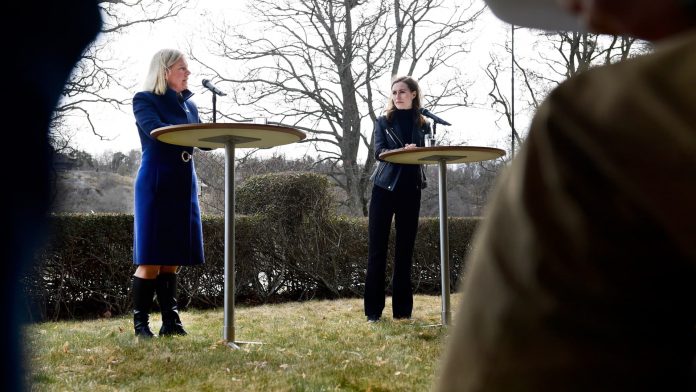 Last week in Brussels, Jens Stoltenberg, Secretary-General of NATO said there have been talks about Sweden and Finland obtaining NATO membership. And the two countries would be welcome in the alliance if they wanted to join.
Russia's February 24th invasion of Ukraine triggered a surge of new support for joining NATO. 
The two Nordic countries historically do not take sides. And have both remained neutral in military confrontations since 1948. But polls are now showing a majority of its citizens want to join the alliance in Finland. And over 60% in Sweden also support NATO membership.
Russia has warned Sweden and Finland not to join the 30-member alliance. And said that Russia would retaliate and cause "military and political consequences" for both countries.
In 2014, Putin signed a Russian military doctrine, which placed NATO as his country's main existential enemy.  And one reason that Putin gave for invading Ukraine was that he wanted the country to promise it would not join NATO.
Putin has also often condemned the long-time friendship and partnership of the countries.
The two neighboring countries have close economic, political, and military ties. And both will make independent decisions regarding their revised security policies, including whether to join NATO.
Sweden and Finland alliance
The two Scandinavian countries held a joint press conference in Stockholm on Wednesday. They discussed future security arrangements. And both countries are condemning Putin's war with Ukraine and the humanitarian crisis it has created.
The Russian invasion is having an impact on Sweden and Finland. And both countries are reevaluating supply chain threats, economic effects, cybersecurity, and the new threat of Russian invasion.
Sweden's prime minister Magdalena Andersson has had a series of talks with Western foreign ministers that are in the 30-member alliance. 
Andersson said the Swedish government is working on a security environment analysis with input from the 349-seat Riksdag legislature. Andersson, who belongs to the Social Democratic Party, says it is doing a separate review of the Russian threat.
Historic Announcements in Stockholm
Shortly after Russia began its assault on Ukraine the Swedish prime minister said, "I do not exclude NATO membership in any way."
"We are now analyzing all the security options for Sweden," Defense Minister Peter Hultqvist claimed at the event.
"NATO membership is one of the options but there are also other options we will analyze. We will come up with a report in the middle or end of May, on what we should do in the future.
"The reason why this happened is not Finland [and] what they are doing. The reason is what Russia is doing – that they have started a war in Ukraine. That's the fundamental thing 100%.
"They are the bad guys. They are doing bad things and have to react in some way".
Finland's Prime Minister Sanna Marin told reporters the country will decide whether to apply to join NATO "within weeks." And there have already been long debates in the 200-seat Eduskunta legislature.
Finland shares the EU's longest border with Russia, an area of 1,340-kilometers (833-miles). The proximity is troublesome.  Marin said it was time for her nation to seriously reconsider where they stand on their foreign policy. 
She said: "Russia is not the neighbor we thought it was. I think we will have very careful discussions, but we are also not taking any more time than we have to in this process, because the situation is, of course, very severe."
"The war started by Russia endangers security and stability in entire Europe," Finnish Foreign Minister Pekka Haavisto said as he presented the report. "Russia's attack on Ukraine will have a long-lasting impact on our security environment. Trust in Russia has plummeted."