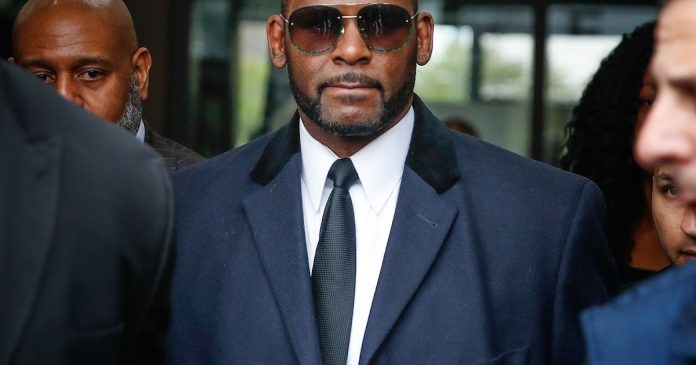 A federal jury found R. Kelly guilty on six counts of sexual exploitation and enticement of a minor.
On Wednesday, a federal jury convicted R. Kelly after 2-days of deliberations. The R&B legend was found guilty of three counts of child pornography and three counts of child enticement in his hometown of Chicago.
The AP reports that he was acquitted on single child pornography and on a conspiracy to obstruct justice charge. Kelly, 55 was found not guilty on all three counts of conspiring to receive child pornography and on two additional enticement charges.
Former associates Derrel McDavid and Milton "June" Brown were found not guilty on all charges. The two had been accused of threatening and trying to bribe witnesses in a 2008 trial where R. Kelly was acquitted in an Illinois child pornography case.
In June, 14 years after the first trial, the singer was convicted of racketeering and sex trafficking in a New York court. The sentence was 30 years.
Video proves R. Kelly guilty 
During the month-long trial, there were over 30 witnesses and a lot of evidence including videos.
Kelly's attorney Jennifer Bonjean urged the jury to put aside what they may have read or heard about him and to see the 'humanity' in the accused man. 
Bonjean noted that Kelly's ex-girlfriend Lisa Van Allen and Charles Freeman, his former merchandising agent both testified against the disgraced singer. And both admitted to blackmailing him for $1 million each to return his sex tapes. 
Both received immunity to give their testimony.
Prosecutor Jeannice Appenteng asked jurors to remember the victims that R. Kelly has allegedly abused. 
"When you are in the quiet of the jury room, consider the evidence in light of who is at the center of this case. Kelly's victims: Jane, Nia, Pauline, Tracy, and Brittany," Appenteng emphasized. And 4 of the 5 accusers testified. 
Some of them recently appeared in the Lifetime documentary, "Surviving R. Kelly."
In Monday's closing arguments prosecutor, Elizabeth Pozolo told jurors that they had seen a mountain of evidence to prove Kelly's guilt. And it was proven that the singer had used his fame to attract and sexually abuse minors. And the videos showed his misdeeds.
She described the defendant as "a secret sexual predator, and a master manipulator."
"Robert Kelly abused many girls over many years," Pozolo argued. "He committed horrible crimes against children. … All these years later, the hidden side of Robert Kelly has come out."
The jury agreed. And found R. Kelly guilty. Based on the mandatory minimums indicated for his crimes this will likely be a 30-year sentence.