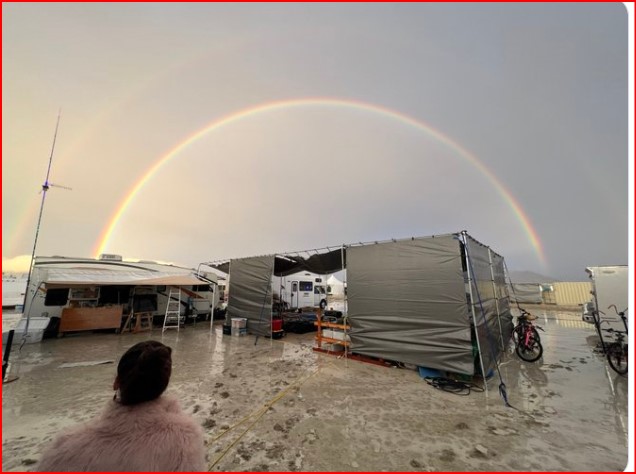 Tens of thousands of Burning Man attendees found themselves stranded when a rainstorm transformed the Nevada desert into a muddy swamp. Roads in and out were impassable.  And festival-goers were trapped in the makeshift city of Black Rock.
Organizers and federal authorities scrambled to address the crisis, urging the attendees to conserve food and water, and take shelter. And advising against further attempts to enter or leave the rain-soaked event.
Skywatchers: Iridescent Pileus Phenomenon, the Rainbow Cloud – USA Herald
Teen went overboard from Wonder of the Seas cruise ship off the coast of Cuba – USA Herald
Burning Man quagmire
Burning Man organizers issued warnings to attendees via social media, emphasizing the need to conserve food, water, and fuel while seeking refuge from the inclement weather on Friday. The temporary airport known as 88NV was also shuttered.
The Bureau of Land Management (BLM) announced Saturday that anyone trying to drive to the playa where the festival is held would be turned around.