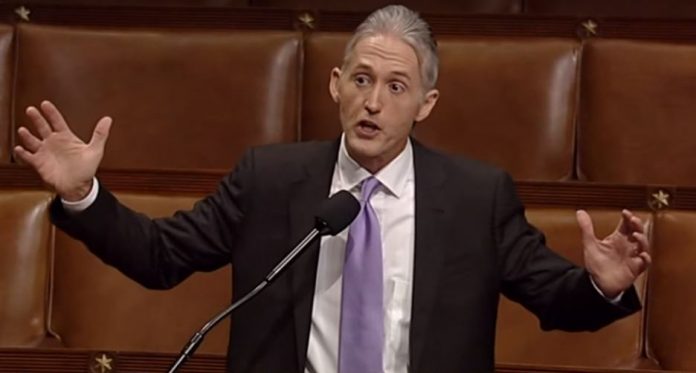 Republican Representative Trey Gowdy spoke against John Dowd the personal lawyer of President Donald Trump on Sunday. He slammed Dowd for calling on the Department of Justice (DOJ) to shut down the Special Counsel's investigation into the alleged Russian meddling in the election.
Rep. Gowdy is the chairman of the House Oversight Committee. He is also a member of the House Intelligence and Judiciary Committees. He is a former federal prosecutor.
In an interview with Fox News, Rep. Gowdy said he advised the Pres. Trump to "give Bob Mueller the time, independence and resources to do his job."
He added, "And when you are innocent…If the allegation is collusion with the Russians, and there is no evidence of that, and act like it."  The Republican lawmaker said he told the same thing to Dowd.
The Republican lawmaker emphasized that Mueller did not volunteer to serve as Special Counsel. He was appointed by U.S. Deputy Attorney General Rod Rosenstein, the President's appointee.
Furthermore, Rep. Gowdy said the Pres. Trump should let the investigation "play out its course." He also emphasized that the President should "let the investigation to be as fulsome and thorough as possible" if he did not do anything wrong.