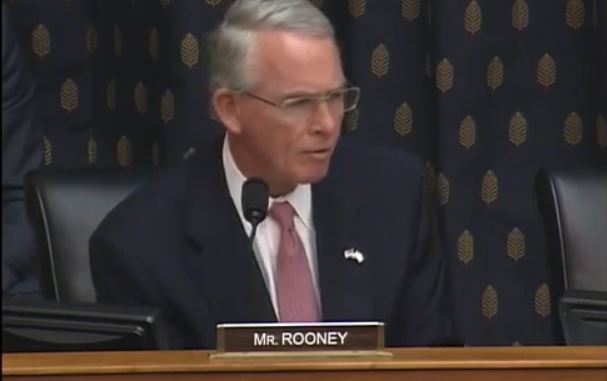 Republican Congressman Francis Rooney of Florida called for a purge of the Federal Bureau of Investigation (FBI). He also alleged that some officials in the bureau are part of the "deep state."
During a recent interview with MSNBC, Cong. Rooney said the FBI's investigation into Russia's alleged meddling in the presidential elections and possible collusion with the Trump campaign is "off the rails."
Cong. Rooney said, "I am very concerned that the DOJ and the FBI… are off the rails." He suggested that the agencies failed to meet the "very high standards" that the American people expects.
The lawmaker noted that the anti-Trump text messages of FBI agent Strzok during the 2016 presidential campaign. Special Counsel Robert Mueller removed Strzok from his team of investigators after a DOJ internal investigation found his text messages.  Cong. Rooney also mentioned the fact that FBI Deputy Director Andrew McCabe's wife accepted donations for her political campaign from Democrats.
Cong. Rooney thinks the DOJ and FBI don't respect the Constitution
Cong. Rooney said those examples are "nerve racking" for him and "undermine" his confidence on the DOJ and the FBI. He suggested that both agencies "don't respect the Constitution."
When asked if he is trying to discredit the DOJ and the Russia investigation, the lawmaker said, "No, I don't want to discredit them. I would like to see the directors of those agencies purge it."
Additionally, Cong. Rooney said, "And say, look, we've got a lot of great agents, a lot of great lawyers here, those are the people that I want the American people to see and know the good works being done, not these people who are kind of the deep state."
Pres. Trump continues attacks on FBI
The lawmaker's comments came as President Donald Trump  continues to attack the FBI and its officials.
In a series on tweets on Saturday, he denounced Deputy Director McCabe. Earlier this month, the President said the bureau's reputation is in "tatters" and the worst in the history of the country.
On Tuesday, Trump tweeted that the FBI "cannot verify claims in dossier of Russia/Trump collusion." He added that the bureau is "tainted."
WOW, @foxandfrlends "Dossier is bogus. Clinton Campaign, DNC funded Dossier. FBI CANNOT (after all of this time) VERIFY CLAIMS IN DOSSIER OF RUSSIA/TRUMP COLLUSION. FBI TAINTED." And they used this Crooked Hillary pile of garbage as the basis for going after the Trump Campaign!

— Donald J. Trump (@realDonaldTrump) December 26, 201