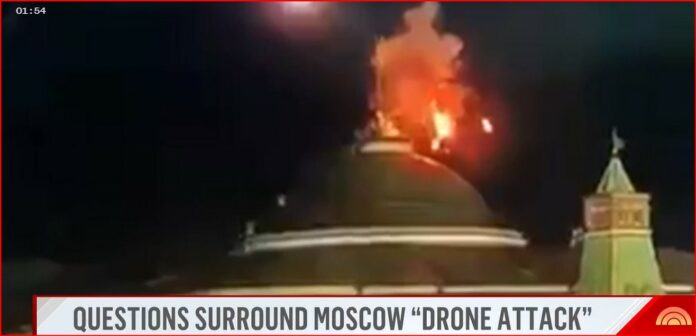 Moscow claims that Russian President Vladimir Putin was targeted in a drone strikes on the Kremlin early on Wednesday morning. 
Russia alleged two drones were sent over the Kremlin in a "planned terrorist act and an attempt on the president's life." And it accused Ukraine of the attack. 
Midair drone strikes images
A video of one of the drones exploding was released by Moscow. It shows an explosion directly over the Kremlin.
The Kremlin is the official residence of the Russian President and is considered the most potent symbol of power in Moscow. 
According to a statement from the Kremlin, Russia intercepted and destroyed the drones. Moscow is calling the alleged attack an act of terrorism. And accusing Ukraine of the attack.
The Kremlin claims it now has the right to take retaliatory measures where and when it sees fit.
Ukraine has denied any involvement in the alleged drone strikes. On Wednesday, Ukrainian Presidential Spokesman Sergiy Nykyforov said that Ukraine "uses all means at its disposal to free its own territory, not to attack others."