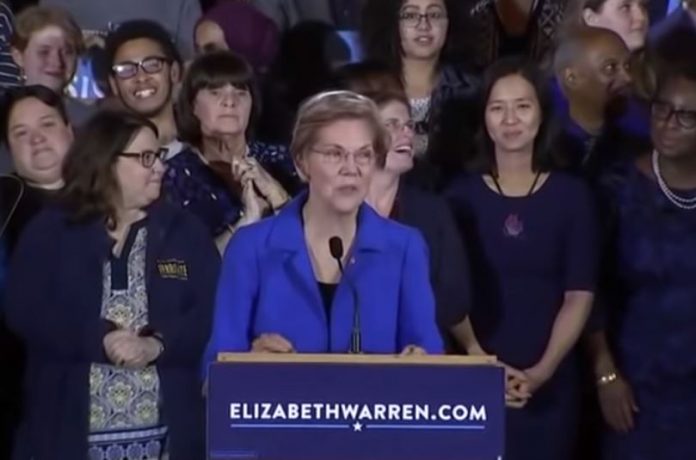 Democratic U.S. Senator and Presidential candidate Elizabeth Warren introduced her comprehensive plan to prevent gun violence, a very serious problem that needs immediate solution.
Warren's proposal comes after the recent mass shootings in El Paso, Texas and Dayton, Ohio. At least 31 people were killed and many others were injured in the horrific incidents in both places.
In a blog post on Medium, Warren cited the following "horrifying statistics" regarding the "gun violence epidemic" in the United States:
The country's firearm homicide rate is 25 times higher than other comparable countries.
Its firearm suicide rate is almost 10 times higher
21 children and teenagers are shot every day
Women in the U.S. are 21 times more likely to be shot to death than women in other high-income countries, most killed by an intimate partner.
She also cited the fact that "majority of Americans— including majority gun owners support sensible gun legislation…like universal background checks." However, the "far-right ideologues" are consistently blocking it in Congress who are "bought and paid for by the gun industry, their NRA partners, and a supporting army of lobbyists and lawyers."
Warren's proposals to combat gun violence
Additionally, Warren noted that in 2017 alone, nearly 40,000 people in the United States lost their lives from guns. Her goal as President is to reduce gun violence by 80 percent by "implementing solutions that work… based on public health research."
She will also "make structural changes to end the ability of corrupt extremists to block our government from defending the lives of our people — starting with ending the filibuster."
According to the Democratic Presidential candidate, if elected, she will do the following:
Take executive action immediately to rein in an out-of-control gun industry and hold gun dealers and manufacturers accountable for gun violence.
Break the NRA stranglehold on Congress by passing sweeping anti-corruption legislation and eliminating the filibuster.
Send Congress comprehensive gun violence legislation and sign it into law within the first 100 days and will review it every year to add new ideas based on new data to continually reduce gun violence.
Require background checks including the vast majority of private sales at gun shows and online.
Extend the existing reporting requirements to include multiple gun purchases of certain rifles from the southwestern border states to all 50 U.S. states.
Raise the minimum age to buy guns to keep guns out of the hands of more teenagers.
Warren says Americans must call out white nationalism a domestic terrorism
"My administration will use all the authorities at the federal government's disposal to investigate and prosecute all those who circumvent or violate existing federal gun laws," said Warren.
She also emphasized, "The shooting in El Paso also reminds us that we need to call out white nationalism for what it is: domestic terrorism. Instead of a president who winks and nods as white nationalism gets stronger in this country, we need a president who will use all the tools available to prevent it. It is completely incompatible with our American values, it is a threat to American safety and security, and a Warren Justice Department will prosecute it to the fullest extent of the law."