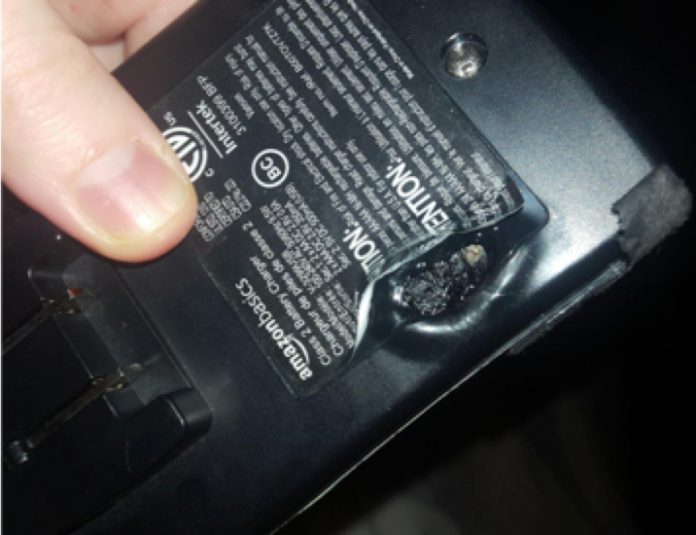 Three Democratic Senators demanded Amazon.com. Inc (NASDAQ: AMZN) CEO Jeff Bezos to recall fire hazard AmazonBasics products after CNN reported that the e-commerce giant is still selling its defective products despite customers' complaints.
In a letter to Bezos,  U.S. Senators Richard Blumenthal of Connecticut, Robert Menendez of New Jersey, and Edward Markey of Massachusetts told Bezos that Amazon "ignored consumer safety complaints" by continuing to sell AmazonBasics electronics "linked to fires,  explosions, smoking, melting, and physical harm to consumers and their property."
CNN looked into more than 1,500 Amazon reviews and found that many AmazonBasics electronics including batteries, USB cords, surge protectors, phone chargers, paper shredder, power strips, batteries, and space heaters could be "potentially hazardous."
The media outlet documented the e-commerce giant's "failure to take action" on these very serious consumer complaints. For example, a consumer from Connecticut named Austin Parra suffered second-degree burns and throat injuries from breathing in smoke after his chair caught on fire from a defective AmazonBasics USB cord. Parra was sleeping when the incident happened in 2017. 
"Amazon must immediately stop selling [any] AmazonBasics products
that is defective" and "notify consumers that are in possession of these products," the Senators wrote to Bezos.
They also demanded Bezos that Amazon must "work with the
U.S. Consumer Product Safety Commission (CPSC) to conduct swift and thorough recalls to remove these dangerous products from homes."
Every business is legally required to immediately report any "potentially hazardous" items to the CPSC. The Commission then determines if an official recall is warranted. A company can initiate a voluntary recall, as well. And this is done with CPSC cooperation.
"Amazon must prioritize consumer safety over sales"
In the U.S., Amazon has publicly recalled only two AmazonBasics items. In 2018 the company received 53 reports of power banks overheating and there were 25 reports of a space heater that was overheating, sparking, or burning. In both cases, Amazon notified the CPSC and recalled the two items voluntarily. In 2019,  Parra filed a lawsuit, which was settled by Amazon.
The Senators noted that Amazon removed some of its hazardous products from its online marketplace. However, its "response to personal harm and property damage has far too often been inaction and silence."
They urged Bezos that "Amazon must prioritize consumer safety over sales"  since people are shopping more online during the COVID-19 pandemic. 
Furthermore, the Senators wrote, "Given the significant risk to consumers, we request information on what steps Amazon is taking" to make the situation better.  They asked a litany of questions and requested a response from Amazon within 30 days.
In August 2019, Sen. Blumenthal and Menendez wrote a letter encouraging Amazon to strengthen its efforts to protect consumers from defective products that remain for sale on its platform. Their letter was prompted by a BuzzFeed article highly critical of the  "Amazon's Choice" labeling of products.
————————————————–
Have a story you want USA Herald to cover? Submit a tip here and if we think it's newsworthy, we'll follow up on it.
Want guaranteed coverage? We also offer contract journalism here.  Just be sure you're comfortable giving up editorial control because our journalists are dogged and will follow the story through to the conclusion. The story will be published to our exacting standards, without regard for your preferred slant.
Want to contribute a story? We also accept article submissions — check out our writer's guidelines here.