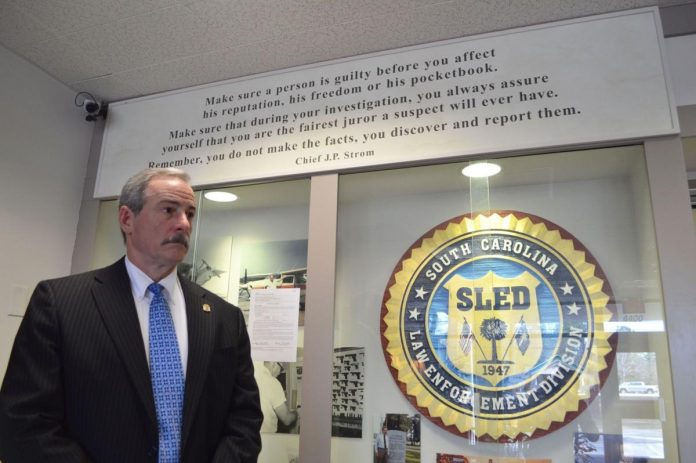 Shipchain, a cryptocurrency company that sold over $30M in what is deemed by South Carolina regulators as unregistered securities, has received an administrative order from the South Carolina Attorney Gerneral's office to Cease & Desist from transacting business in  SC due to its violation of the Act:
"CEASE AND DESIST ORDER NOW THEREFORE, pursuant to S.C. Code Ann. § 3 5-1 -604(a)(1), it is hereby ORDERED that: a. Respondent ShipChain, Inc. and every successor, affiliate, control person, agent, servant, and employee of ShipChain, Inc. and every entity owned, operated, or indirectly or directly controlled by or on behalf of ShipChain, Inc. CEASE AND DESIST from transacting business in this State in violation ofthe Act; and b. Respondent ShipChain, Inc. is permanently barred from participating in any aspect of the securities industry in or from the State of South Carolina."
It's alleged in the complaint that:
"In connection with the events above, Respondent ShipChain employed or associated with an unregistered agent in violation of S.C. Code Ann. § 35-1 -402(d). 1
It is in the public interest, for the protection of investors, and consistent with the purposes of the Act that Respondent be ordered to cease and desist from engaging in the aboveenumerated practices, which constitute violations of the Act, and pay an appropriate civil penalty for its wrongdoing."
In a brazen response to the Attorney General's Cease & Desist Demand, Shipchain appears to have ignored the demand by stating "it's business as usual for us here."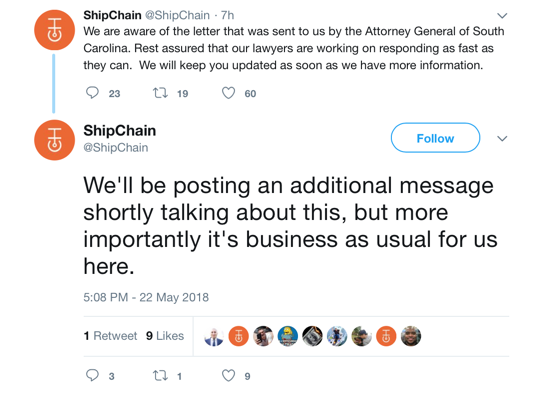 The Shipchain token continued to trade today in spite of regulators demands to Cease & Desist:

More to follow on this emerging story.
Full Copy Of Cease & Desist Letter
ShipChain-Inc-Administrative-Order-to-Cease-and-Desist-COS-01685821xD2C78