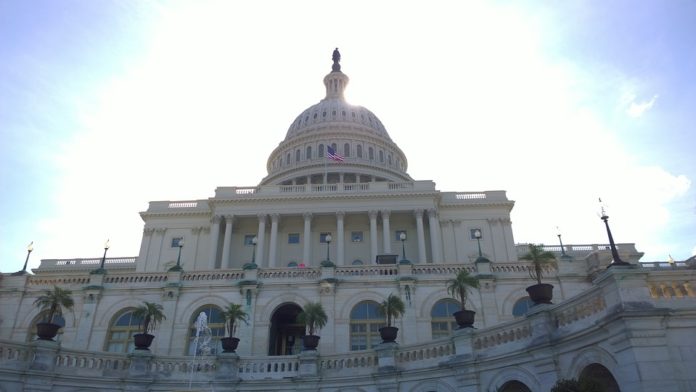 A "small fire" prompted a temporary shutdown of the U.S. Capitol complex and disruption of the ongoing Biden inauguration rehearsal on Monday.
According to the U.S. Secret Service, the small fire, which was immediately extinguished, occurred under the bridge at First and F streets southeast of Washington D.C.
Public safety and law enforcement responded to a small fire in the area of 1st and F streets SE, Washington, D.C. that has been extinguished. Out of an abundance of caution the U.S. Capitol complex was temporarily shutdown. There is no threat to the public. pic.twitter.com/kQfAI4NxNK

— U.S. Secret Service (@SecretService) January 18, 2021
The U.S. Secret Service is the lead agency responsible for designing and implementing the operational security plan for the Biden inauguration, which is designated a National Special Security Event (NSSE).
It is working with the military, law enforcement agencies, and other public safety partners to ensure the security of the Biden inauguration on Wednesday.
Separately, the Acting Chief of the U.S. Capitol Police Yogananda Pittman released a statement reiterating  that the temporary shutdown was out of "abundance of caution."
"Members and staff were advised to shelter in place while the incident is being investigated," said Pittman.
The notice sent to House and Senate offices reads, "All buildings within the Capitol Complex: Due to an external security threat located under the bridge on I-295 at First and F Streets SE, no entry or exit is permitted at this time. You may move throughout the buildings but stay away from exterior windows and doors. If you are outside, seek cover."
Meanwhile, the Washington D.C. Fire and Emergency Medical Services (EMS) Department said a woman using propane at a homeless encampment caused the small fire.  She suffered a non-life-threatening injury and refused to be transported to the hospital for treatment.
The adult female who occupied the tent declined transport to the hospital. #DCsBravest have requested the @RedCrossNCGC to provide assistance. There were no other injuries.

— DC Fire and EMS (@dcfireems) January 18, 2021
The U.S. Capitol Police lifted its shelter-in-place advisory after determining that there is no threat.
The security in and around Washington D.C. is very tight in preparation for Wednesday's inauguration. The FBI vetting all of the 25,000 National Guard members deployed to the event amid fears of an insider attack.
The U.S. military, law enforcement agencies, and other public safety agencies want to ensure a peaceful transition of power to the incoming Biden administration.
Have a story you want USA Herald to cover? Submit a tip here and if we think it's newsworthy, we'll follow up on it.
Want to contribute a story? We also accept article submissions – check out our writer's guidelines here.