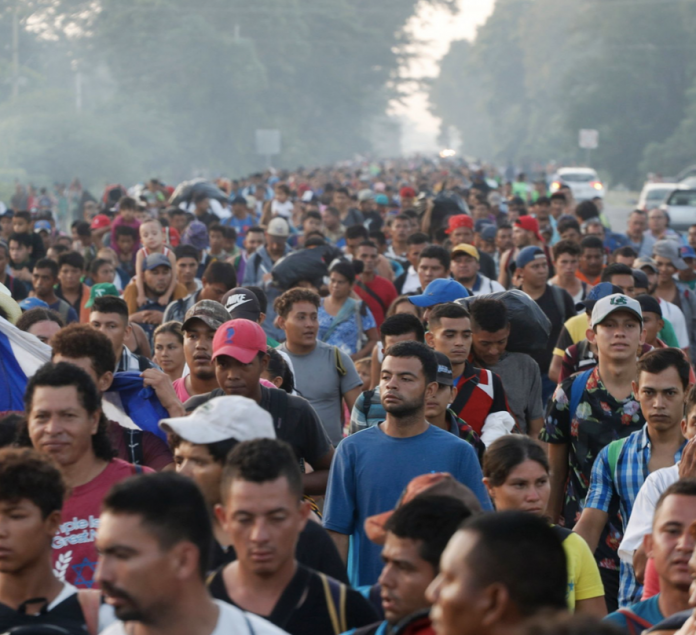 Emboldened by the incoming administration, three large migrant caravans, each estimated to be over 3,000 people, are scheduled to reach the United States border, possibly within the first few weeks of President-elect Biden's first term.
Throughout the Biden-Harris campaign, one of the hot topics discussed was open border policies.
On Friday, two migrant caravans forced their way into Guatemala while the third will arrive on Saturday. The migrants refused to register and are planning to claim asylum in the United States.
The organization Pueblos Sin Fronteras or Cities without Borders called on the United States, Mexico, and Central-American governments to allow the migrant caravans to travel freely and seek asylum in the U.S.  They are asking the incoming Biden administration to "honor its commitments."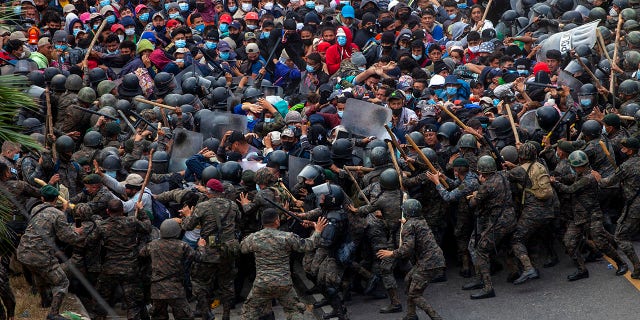 Biden team tells migrant caravans "now is not the right time" to seek asylum in the U.S.
President-elect Biden and his team's response to this call for humanitarian aid was a cold, "Now is not the time to come to us." This response was despite the constant open borders rhetoric and promise to undo as many of President Donald J. Trump's policies as possible. This includes strong border protection and Migrant Protection Protocols (MMP).
The transition team then provided additional statements, "We recognize the importance of the incoming Government of the United States having shown a strong commitment to migrants and asylum seekers, which presents an opportunity for the governments of Mexico and Central America to develop policies and a migration management system that respect and promote the human rights of the population in mobility," the group said. "We will advocate that the Biden government honors its commitments."
When asked about the current MMP, which requires migrants to remain in Mexico while awaiting a hearing, the team insisted that Biden will be putting a stop to this policy while offering amnesty to 11 million undocumented immigrants. This plan was recently announced but had little explanation in regards to steps forward. When pushed, reporters were told these changes will take time.
Republicans warn millions of asylum seekers will attempt to enter the U.S.
"During the presidential debate, Joe Biden promised mass amnesty," Sen. Tom Cotton, R-Ark., tweeted Sunday. "The rest of the world noticed."
Cotton added Monday: "He's unveiling his draft immigration bill this week, and it's what you'd expect from the party of open borders: Total amnesty, no regard for the health or security of Americans, and zero enforcement."
"11M, 12M, welcoming the caravan with open arms…Pres. Trump was right about Biden!" Trump 2020 campaign Senior Adviser Jason Miller chimed in.
Former Republican House Speaker Newt Gingrich warned waves of migrants coming to the U.S. could only get larger.
"President-elect Biden wants to legalize 11 million illegal immigrants. Between 7,000 and 9,000 Hondurans have formed a gigantic caravan to come to Biden's pro-illegal immigrant America," he said. "After the first 11 million, want to guess how many new illegal immigrants there will be by 2024?"
When pressed for additional information, there was also no response to whether these migrants would be subject to the same COVID-19 protocols as travelers within the US or those coming internationally.
Additionally, this raises questions about the continued transparency regarding how this new incoming administration will register, house, clothe, feed, and immunize these groups of individuals. Similarly, there are lingering questions circling vaccinations and medical care these caravans will require, and if this means COVID-19 vaccinations will need to be reprioritized.
Have a story you want USA Herald to cover? Submit a tip here and if we think it's newsworthy, we'll follow up on it.
Want to contribute a story? We also accept article submissions – check out our writer's guidelines here.