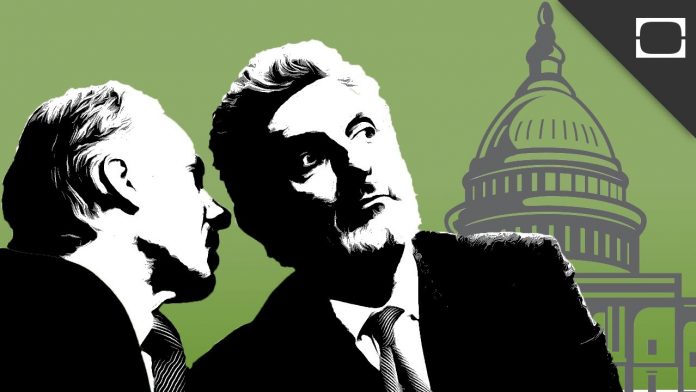 Leaked emails were allegedly exchanged by a V.P. at United Launch Alliance and a lobbyist for the International Association of Machinists and Aerospace Workers. If true this may explain some of President Joe Biden's constant snubbing of Tesla and SpaceX CEO Elon Musk. 
SpaceX has emerged as the Fed's preferred aerospace contractor. This is largely due to their consistently lower bids and their innovative technology breakthroughs.
Leaked emails show the efforts of ULA, a SpaceX competitor jointly owned by Boeing and Lockheed Martin, to further damage SpaceX and Musk's relationship with the Biden administration.
And it may be working.
Recently, the Biden administration held a big EV summit at the White House. And they didn't invite Tesla, the largest electrical vehicle maker, in the U.S.
And when SpaceX's all-civilian Inspiration4 successfully landed the president didn't call to congratulate them.
Competitors, Lobbying and special interests
Emails exchanged between ULA Vice President Robbie Sabathier and Hasan Solomon, a lobbyist with the International Association of Machinists and Aerospace Workers, have received little or no major media coverage.
The communications were first published in late August by a hacker group and some trade publications did report on them at the time.
Robbie Sabathier is Vice President, Government Operations and Communications for Centennial, Colorado-based United Launch Alliance (ULA). The ULA website says "she is responsible for leading ULA's interaction with key decision-makers and stakeholders in Washington, D.C. and shaping critical policies and decisions related to ULA's business."
Hasan Solomon is a top lobbyist at the International Association of Machinists and Aerospace Workers union. Solomon has the dual role of IAM Political and Legislative Director. He's considered one of the most successful trade union lobbyists in Washington, D.C. 
Leaked emails
"Hasan, Protect your source. Eye-opening stuff on Elon, Workers rights, his ties with the Trump Admin, and ties with China," Sabathier wrote. "Your friends at the WH may be interested."
The document also pointed out Musk's past donations and proximity to politicians that weren't Democrats. This includes old photos of Musk with Donald Trump, Ivanka Trump, Vice President Mike Pence, and House Minority Leader Kevin McCarthy.
And claimed he "has had some controversial opinions about the coronavirus pandemic," as well as his anti-union past.
Sabathier emailed Solomon a Town Hall opinion piece from a very Democrat-leaning journalist.
Solomon responded, "This is very helpfull!!!!" I will be meeting with the White House Public Engagement staff next week & will raise our concerns with Elan Musk & his anti-labor company.`"
Over a period of weeks, Sabathier continued to send anti-Musk articles. And asked him to share with his White House contacts. This includes a Wall Street Journal opinion piece titled "Elon Musk's War on Regulators."
She even sent Solomon a May interview where incoming NASA Administrator Bill Nelson claimed that ULA was "on the Dynetics team" that lost out to SpaceX on the $2.9 billion manned-flight contracts.
On May 12  he sent a copy of his endorsement of ULA CEO Tory Bruno. He asked that Bruno remain on the National Space Council's User Advisory Group. And he had sent that request to his "contacts in the White House, the VP's office" and that of Rep. Kendra Horn, an Oklahoma Democrat.
Mission Accomplished
"This is fantastic! Thanks, Hasan! Really amazing," Sabathier replied. "Now we need to get Administrator Senator Nelson engaged in fixing the NASA procurement problem ('let's just award everything to SX' prob)!"
It is almost unprecedented that Biden did not call to congratulate the Inspiration4 crew. But other administration officials including Bill Nelson congratulated the SpaceX team. 
"Congratulations, Inspiration 4!" Nelson tweeted. "With today's splashdown, you've helped demonstrate that low-Earth orbit is open for business."